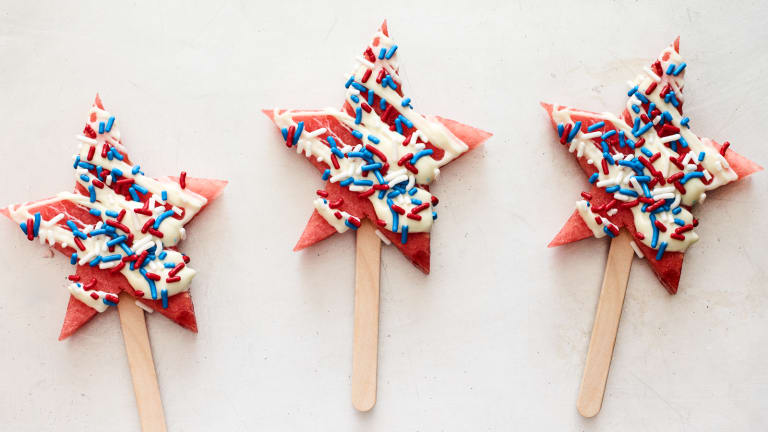 Celebrate the 4th of July with This Explosive Menu
What's the difference between grilling and barbecue?
Grilling is what we do on Sunday afternoon, cold beer (or glass of wine) in hand, while the game is on TV and the kids are trying to kill each other in the living room. It is hot, fast and (usually) painless. Find all our favorite grilled recipes here. 
In contrast, barbecue (and wood smoking) refers to a slow cooking process over indirect heat which typically takes several hours at a relatively low temperature (between 200°F and 300°F). (During which the kids may or may not still be trying to kill each other in the living room.)  Make these slow smoked back ribs if you want to take your time. 
They are both the ultimate way to enJOY the long Summer days. 
For this July 4th menu we share some of our latest favorite recipes that will truly make your holiday explosive even before the fireworks with some indoor and outdoor recipes that all work on a hot day. 
Serve these in little cups that people can easily sip as finger food and make extra roasted chickpeas for snacking. 
Simple burgers are made extra special with delicious toppings, check out Jamie's favorite burger and dog toppers. 
SWEET, SPICY, SMOKEY BBQ SAUCE
A good BBQ sauce is the secret to a good BBQ. We love slathering up chicken (wings, drumsticks, cutlets - all of it) with some good finger lickin' sauce. It's not so hard to make your own actually.  
We are seriously crushing on Mexican style street corn, Elotes, grilled on the cob and served slathered in a spicy mayo. Traditional elotes are made with cheese, but we have a secret sub to keep it non-dairy that you will absolutely love. 
Every BBQ needs a slaw, this one has crispy tofu added for the vegetarians at the party. 
Calm those kids and keep 'em busy making their own pops. All you need are a few simple ingredients. Red, White and Blue is where it's at.