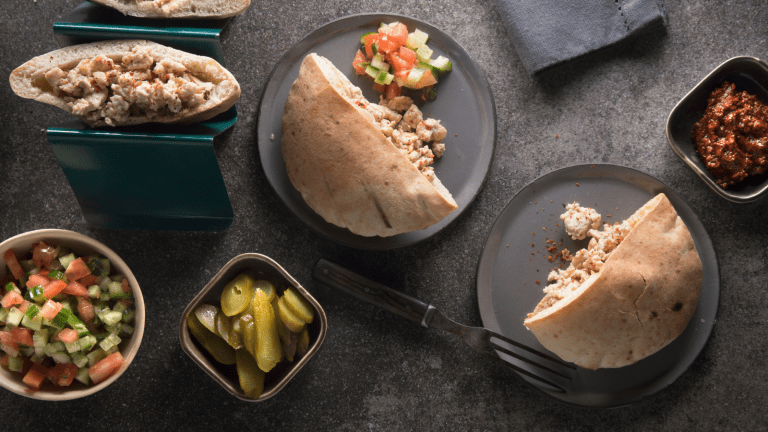 Celebrating Israel Independence Day
This year Yom HaAtzmaut is on Thursday May 5, 2022.  Usually we go out and find a nice spot to grill and picnic with our extended family, but this year will be a little different.  
So, probably you wanna know what I'm gonna make.  It's not like Shavuos where I wait for an excuse to make cheesecake, I don't really wait for Yom HaAtzmaut to make or eat Israeli food.  
Even before we moved to Israel, Hummus and Tahina were staples in our house - we eat them with everything from chicken nuggets to pizza and on salads.  Other middle eastern dips like Turkish Salad and Babaganoush are slathered in between butterflied potato borekas or smothered on spicy beef cigars weekly at our shabbos table and we eat falafel like it's going out of style.
So to celebrate Israel on this special day, I am going to make my own shawarma. 
In the last few years boneless, skinless dark meat chicken cutlets, Pargiot, have become easier to find even in the US, they've been popular in Israel for years.  Pargiot are moist, tender, juicy and perfect for an easy homemade shawarma.  
My local supermarket offers them as cutlets, nuggets and fingers but you can easily cut strips from the cutlets yourself by using a sharp knife - make 'em about 1-inch wide and the length of the cutlet.  
Yes, yes, yes if you are in the know then you know traditional shawarma is shaved lamb, chicken, turkey, beef or a mixture thereof but this quick and easy version gives you the same taste, in a fast family-friendly version that will take you but minutes to make for dinner and is perfect for a Yom Haatsmaut celebration at home.  
There are a few available shawarma spice blends available on the market -- which can make your life all that much easier.  But if you can't find it make your own shawarma spice by combing: 1 tablespoon each coriander, cumin, cardamom, chili powder, steak seasoning plus 1 teaspoon smoked paprika.  Stuff your shawarma in pita pockets with "chips" an absolute must, and of course by "chips" I mean fries when I am talking Israeli food and then add in whatever you like.  We, of course, go for hummus and tahina and I like lots of shredded fresh crunchy lettuce.
If you want to try a different take on shawarma, check out these sloppy joes.  Using ground white meat chicken you can keep it super lean, but still, with all the Israeli flavors, it is utterly delish. 
Another option is making your shawarma with brisket! Maybe you froze some leftover brisket from Pesach, well now is the perfect way to makeover your brisket. 
Can't get any meat or just prefer fish, go ahead and make these tacos. 
If you love Israeli food in addition to a ready to go shawarma spice mix you should also have two more spices in your cabinet, always.  Za'atar and Sumac.  
MORE: How To Stock Your Pantry For Easy Israeli Cooking
Za'atar is roughly a mix of oregano, basil, thyme, rosemary, hyssop, sesame seeds, sumac and salt and I love combining it with olive oil plus a touch more kosher or sea salt and dipping my challah into it.  Simply beyond anything else you have ever experienced when it comes to challah condiments.  
Sumac a purplish red spice while often interchanged with paprika because of the look actually has an unmistakable and quite remarkable tangy lemony flavor -- great on fish and meat, in salads and on hummus.
We love, love, love! Israel and thank G-d every day that we made the move 8 years ago. 
What are your favorite Israeli foods?
Leaving a comment here means you love Israel and it's delicious food.
Show your love!
For more Israel Independence Day ideas see:
Israel Independence Day - Get Your Grills Out