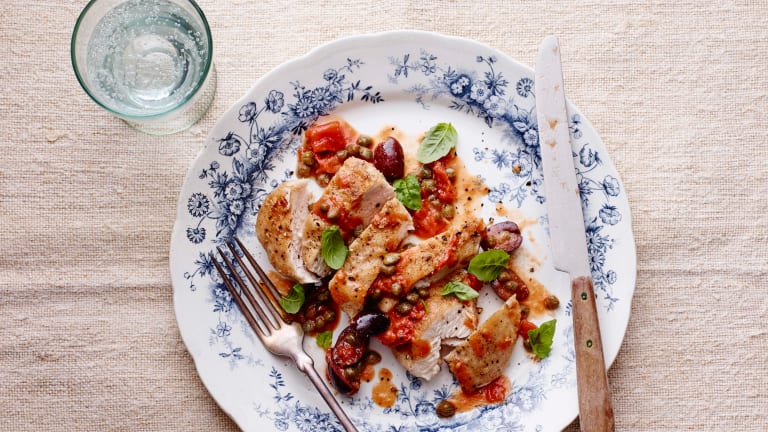 Celebrating Mom Shabbat Menu
In this week's Parsha, we encounter another ethical dimension of the Torah, recognizing the special bond between parents and children. A newborn calf, lamb or kid must be left with its mother for seven days before being eligible to be brought as an offering and it is not permissible to slaughter an animal and its offspring on the same day. As Mother's Day falls the day after this Shabbos this year, it is an especially timely and timeless story. 
This year instead of just celebrating Mom for one day, we will celebrate her all Shabbat long starting with this delicious dinner even the kids can make with just a little help from Dad.
Pan-fried fish fillets, marinated in a lemon, garlic and fresh herb sauce is an easy dish that can be made hours or even a day ahead. For little and big kids: Let them dredge the fish and mix up the marinade. 
This clever quiche uses mostly egg whites, lots of veggies and no cheese, which keeps it light and healthy.  For little kids: Let them whisk the eggs and grease the muffin tin.  For big kids: Let them crack and separate the eggs and portion mixture into tins.
APPLE, CELERY AND KOHLRABI SALAD
A crisp, fall, slaw incorporating apples, honey, and pomegranates.  For little kids: combine dressing ingredients and toss with salad.  For big kids: Remove the pomegranate arils by banging the pomegranates with a back of a spoon. 
Pan seared chicken with a flavorful tomato and olive sauce.  For little kids: dredge the chicken breasts. For big kids: Prep the tomatoes and olives. 
Since Sunday is also Lag Baomer let's have S'mores, but this version does not need a fire, save those for the day of.  For big and little kids: Spread the fluff on the graham crackers and sandwich the two cookies around ice cream.