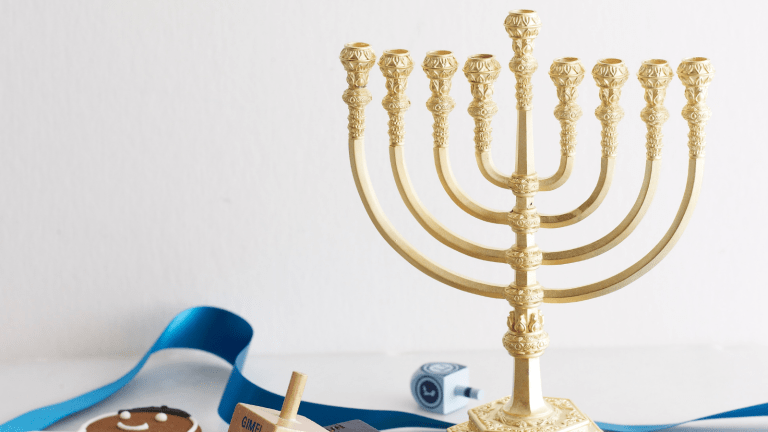 Chanukah Treats
I'm tired of jellybeans inside of plastic dreidels and one-dimensional chocolate. This Chanukah, there will be gelt, of course—but that's where the sweet surprises will only just begin.
Box 'em, Bag'em, Eat'em!  Whatever you do with them, these are the perfect Chanukah treats for your parties or your gifts.
It all starts with our Maccabee Gingerbread Men, Chanukah cookies with a flavor twist.  
This recipe is a much milder version of traditional gingerbread men. If your family prefers more zing, increase the ground ginger and cloves. The orange zest offers an unexpected twist that's very kid-friendly. If you don't have whole wheat pastry flour, replace it with white flour. 
Encourage the kids to decide on a color scheme when decorating the cookies; or, keep it simple and bake them with colored, coarse sugar crystals sprinkled on top.
When cool and ready, insert the cookies into glassine bags affixed with Haukkah stickers or colored and signed by your kids. 
Don't Want to Deep Fry Donuts? Bake Away! - Baked Donuts
Try these delicious baked donuts for an almost guilt free Chanukah alternative. Each donut contains only 1 teaspoon of oil. For pareve donuts, use coconut or soy yogurt and milk. When measuring the flour, use a spoon.  Do not pack the flour down into the measuring cup.
You can find pastry boxes for your donuts at craft stores or online. Fill mini boxes with donuts for your guests to take home.  It's the best party favor. 
The Cutest Little Donut Bites - Zeppole (pronounced zep-O-lee)
These they can eat at the party.  They are small fried Italian donut balls, made from cream puff dough. Try these little puffs of donut heaven, for a new spin on your traditional Chanukah donuts.
Beyond Gelt, but Still Covered in Chocolate - Sourdough Brittle
Our final treat, goes takes your gelt to a new dimension, try brittle dipped in chocolate.  
It's important to get the brittle as thin as possible, and the best way to achieve that is by preventing the brittle from cooling down before it is spread on the trays. To achieve that, the pretzels and the trays themselves must be kept warm as instructed.
Happy Hanukkah.