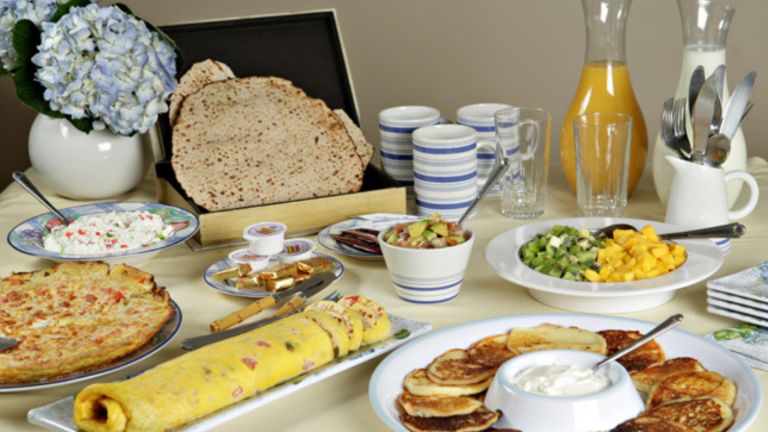 Chol Hamoed Breakfast, Snacks, and Lunch
We've cooked and cooked to prepare for Pesach—but now it's the first morning of chol hamoed, and our families begin to roll back into the kitchen. They want to eat again! Serving refreshing, filling, and light Pesach breakfast and lunches—while offering variety—can be almost as big of a challenge as preparing yesterday's yom tov feast.
From filling and hearty breakfasts, to easy-to-pack take-along lunches for chol hamoed outings, to the snacks that tide them over until dinner, these Pesach solutions will satiate your family from dawn to dusk.
BREAKFAST
These pancakes are an all-time favorite in my family—I even make them for dinner almost every week all year round. Though the original chametz recipe calls for ¾ cup flour, it took much less potato starch to reach the same consistency.
Avocados offer a refreshing twist for the palate and compliment the egg and cheese dishes—breakfast time or anytime.
For those who don't have many starch options besides for matzah, but still want to start the day with something filling, these frittatas are a complete meal.
This roulade is a twist on a traditional egg dish—and is a much more practical idea when serving a large amount of people breakfast in the morning, freeing the home cook from skillet duty as the entire roulade bakes in the oven. Use any vegetables you have on hand to vary the roulade every time.
Chocolate Spread
This is a classic Israeli breakfast staples—shmear it on matzah, or use it on top of pancakes or blintzes for a guarantee that even the pickiest children will be running to the breakfast table. This Pesach version is Malky Vorhand's brainstorm.
LUNCH
Often, men like to have a filling meat lunch, even if its Chol Hamoed. If everyone else is eating dairy, you won't have to prepare a whole separate meal. Use your leftover grilled chicken for this refreshing and satiating salad. Credit goes to Malky Vorhand.
Wrapped in a neat crepe package, blintzes are an easy and filling lunch take-along on a trip and make a great sandwich replacement. They don't need to be served hot to be delicious and filling. Serve them plain, or add the chocolate spread in the center for an additional dimension of flavor.
These are a great veggie burger alternative—when you've overdosed on potatoes, these are filling, are lighter, and offer a little more variety. Though they're delicious right out of the fryer, they're neat, easy to eat, and portable for a take-a-long lunch. Eat alone, or if your customs allow, create a sandwich with matzah and some crunchy lettuce.
Mayonnaise is a staple that can serve as a base for so many dishes. When you have a good kosher for Pesach mayo recipe, it fills a lot of needs and is much more delicious than any store bought variety. To achieve the right consistency, eggs need to be beaten at a high speed for a long time, with the oil added extremely slowly, drip by drip. This is not the time to pull out your hand mixer—a Kitchen Aid or Bosch is necessary.
Use the mayo to make a selection of vegetable salads. 
Waldorf Salad
Orange Carrot Salad 
Red Potato Salad 
Eggplant Babaganoush 
SNACKS
These chocolate cheese snacks are easy to take along—bake them in individual disposable holders so they're neat and easy to transport. I tried three different cheesecake recipes to find the one that works best—and once again, Malky Vorhand's won hands down.
This great take-a-long snack couldn't be easier to prepare.