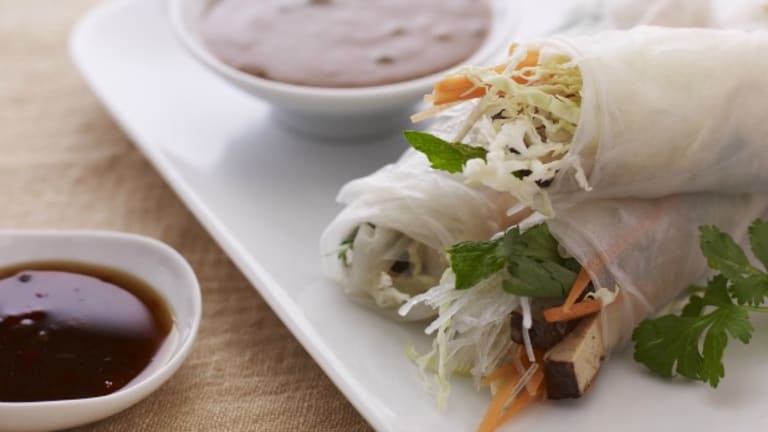 Cool You Off Shabbat Menu
This week's parsha includes the census of the Children of Israel as they continue their wanderings in the desert. Against the sweltering heat of the sun, battered by the dust storms and harsh elements, I can't help but wonder how they managed the difficulty of the journey and the uncertainty about when (and even if) they would see the Promised Land. 
I moved to the desert last Summer (Beer Sheva) and I am still learning that 107 degrees F is not uncommon I am gravitating towards the foods that don't need to be reheated on Shabbat and ideally require very little cooking. 
I love summer rolls for their ease, but they are also healthy and fun.  They are very adaptable so I make a batch of what I like for everyone and then let each kid choose how they want to make theirs. 
TEQUILA LONDON BROIL WITH MANGO CHUTNEY
London broil or grilled chicken with a fruity chutney is the perfect main course. 
Round out the meal with salads, I love this bok choy salad with added purple cabbage, it is just gorgeous. 
Sometimes I skip a starchy side since I know everyone will be eating challah, but when I have company I feel compelled, so I would go with something still cool and refreshing like soba noodles, feel free to simplify the recipe, cold soba with a little soy sauce and rice vinegar is all you need. 
Cooling off with ice cream is a great finish if you are up for making your own, try this Green Tea Ice Cream and just sub coconut milk for the milk.   But the easiest cool dessert is granita, choose your favorite flavor. 
Click here for more Shabbat Menus for Bamidbar.