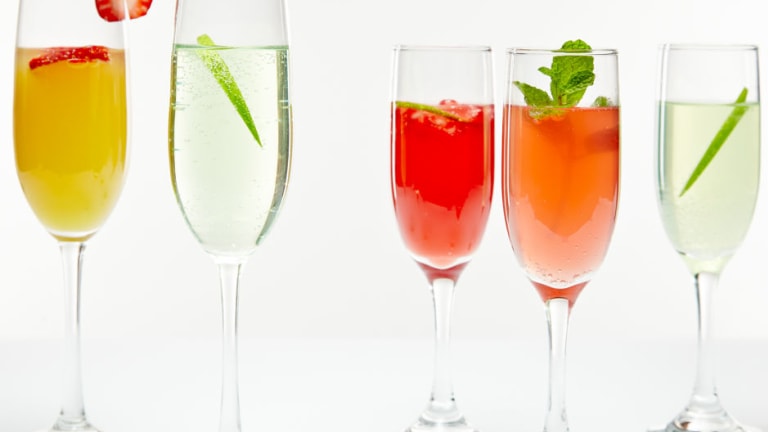 Days of Kosher (Sparkling) Wine
Should old acquaintances be forgotten and never brought to mind?  Not if that old acquaintance is kosher champagne.  This time of year we normally have many opportunities to raise a glass and celebrate, whether at the office holiday party or ushering in the New Year or avoiding the fiscal cliff.  This year more of us will be raising that glass in the comforts of our own home, maybe even in our robes and slippers. 
While a rich red may keep you warm by the fire at night, there is something fun about bubbles and we can all use a little more fun as we say goodbye to 2020. 
Stick to Champagne or sparkling wine, it's light, festive and remarkably drinkable most anytime and the availability of great kosher Champagne is better than ever.  Here are a few of our seasonal favorites:
Drappier Brut Rosé (France); $58.  Fine, fresh, refined, elegant and fruity with raspberries, cheries, and strawberries on the nose and palate.  Deep pink in color, a beautiful rosé Champagne.  Buy Here. 
Elvi Cava Brut (Spain); $24.  A blend of local grape varieties: Perellada, Macabeo and Xarel-lo.  Bubbly and dry, with interesting floral, mild citrus, and strawberry notes.  It is crisp and clean with a moderately long finish. Buy Here. 
Herzog Selection Blanc de Blancs Brut (France); $19.  This wine is pale gold in color with aromas of peaches mixed with pear and other citrus fruits.  A crisp pallate with more pear fruit make this a very pleasant aperitif wine. Buy Here.
Bartenura Prosecco Brut (Italy); $20.  A wonderful, slightly sparkling wine produced in the Veneto region of North Italy.  Its slightly fruity, creamy, dry quality.  Buy Here. 
Laurent Perrier Champagne; $77 (France).  Laurent-Perrier is the largest family-owned Champagne house in the world.  This bubbly strikes a lovely balance of brightness and complexity with aromas of citrus and stone fruit. Its flavors combine white peach and pastry with green apple and a pleasing biscuity finish. Buy Here. 
With great deference to the poet Robert Burns and his incomprehensible song that is the midnight soundtrack for many a New Year's celebration, perhaps a change of words is appropriate:
We'll take a cup of kindness yet, for auld lang syne sparkling kosher wine.  L'Chaim!