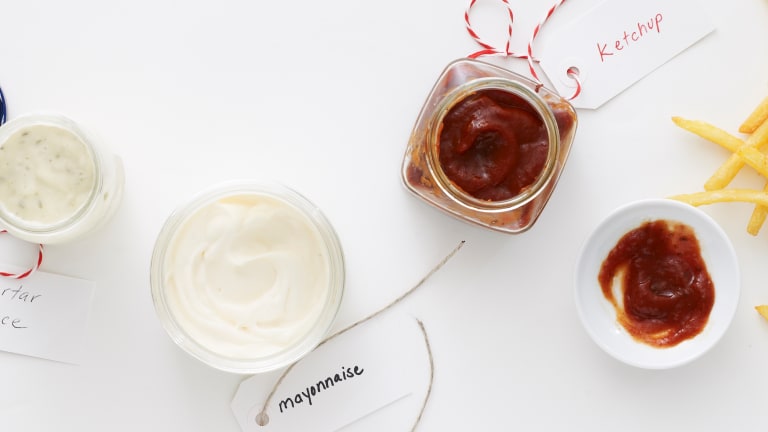 DIY - Make Your Own Condiments
Many people have the custom to make everything on Pesach from scratch and this year many might decide to follow suit, just because they can't get all their usual products.  So it's time to learn to make your own homemade condiments: mayonnaise, tartar sauce, ketchup, and their many variations.
Outstanding mayonnaise can be easily made at home. The flavor is unlike any store-bought version. Your creation will be garlicky, fragrant, and tangy with a delicate hint of full-bodied flavor from the olive oil. Keep in mind that the more olive oil you use, the stronger the flavor the mayonnaise will have. That's why the classic recipe combines olive oil and vegetable or another neutral-tasting oil to make a mayonnaise that isn't too intense.
Find the full recipe plus flavor variations from lemon to herbed in our DIY Homemade Mayonnaise recipe. Enjoy your homemade mayo with our Hasselback Potatoes. 
While it's extremely satisfying to make mayonnaise by hand, you can also combine the egg yolks, lemon juice, and any other flavorings in a mini food processor. While the machine is running, add the oil, a few drops at a time, and blend until the mixture is thickened and pale in color. The result will be just as delicious as if you made it with a whisk and bowl.
When it comes to ketchup, I prefer making my own because not only can I control the sweetness, salt, and acidity, but I can also use different combinations of fruits and vegetables to make a delicious condiment that is worlds beyond the typical tomato stand-in.  Get my classic recipe and read on for variations like Ginger Carrot Ketchup and Pineapple Mango Ketchup. 
Since you already made your own mayo, just add some chopped pickles to make a homemade Tartar Sauce. 
Most BBQ sauce recipes call for a few ingredients that you might not have for Passover, but you can easily adapt and sub for all of them. In this recipe, the main ingredients are tomato paste, but some of the spices might be hard to find, don't worry, you can easily skip them and adjust flavor to taste at the end. 
What other condiments will you make this Passover?