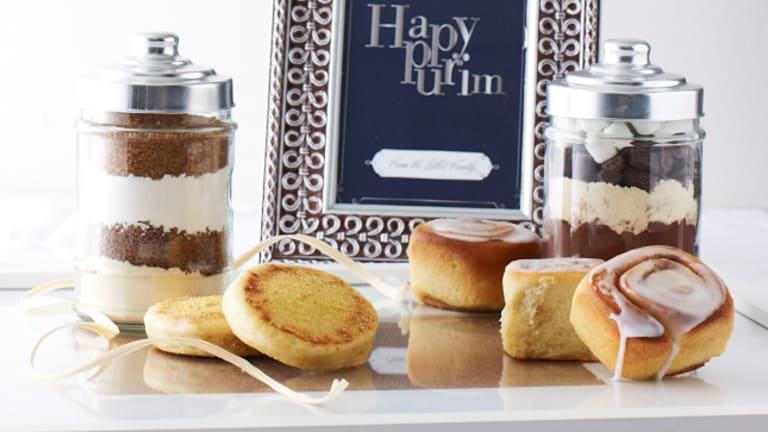 Do It Yourself Purim Gift Ideas
Purim is all about being creative. Though it's easy to buy candy and bakery hamantashen, go the extra mile by making unexpected treats your friends will relish.
Remember, just because you want to present mishloach manot gifts with a homemade touch, spending hours in the kitchen isn't necessary.
Here are simple, no-fuss ideas to get you started. We hope you'll enjoy them and take the opportunity to make this Purim extra special.
Go Homemade:
The trick of going homemade is to make food that is effortless to prepare in bulk.
Who doesn't love Israeli salads and dip?  
Use a food processor to efficiently make big batches of Israeli salads and spreads such as hummus, babaganoush, flavored tahini, or Turkish salad.  Just divide the portions into small containers and present with a bag of pita.
Granola is one of the easiest things to make, especially if you prepare it in your, preferably pareve, slow cooker (it actually bakes more evenly in the crock pot than it does in the oven).  Assemble the ingredients and before you know it the granola will be done.  Divide the granola into plastic bags and present it with a small container of yogurt and a single serving-size carton of orange juice with best wishes for a happy Purim breakfast.  (For a cute container, look for the plastic straw cereal bowls like these).
DIY Kits:
If you don't like to cook but you have friends who do, honor their passion by giving them ingredients and a recipe for a simple ethnic meal they can prepare themselves.  This is a wonderful way to be creative without messing up your kitchen.
Italian
For an Italian-inspired dinner, arrange a bag of imported pasta, a bouquet of fresh basil, a handful of vine-ripened tomatoes, a jar of fresh sea salt, a small bottle of olive oil, and parmesan cheese, along with a recipe to make pasta with fresh tomato sauce.  Present the items in a pasta strainer.
Coffee
For coffee lovers. Create the ultimate coffee basket with an on-the-go coffee cup, coffee beans, tea bags, instant coffee and chocolate bars. You can even add small packets of sugar, honey, agave nectar or flavored syrups.
Mediterranean
If a Mediterranean-inspired gift is more your speed, arrange a can of chickpeas, a jar of sesame paste, a head of garlic, two lemons, a small shaker of cumin, and a bag of pita, along with a recipe for hummus.  You can present these items in a small ceramic bowl.
Mix it Up:
When you still want to make something from your kitchen but you don't want to turn on your oven, prepare dry mixes for pancakes, cookies, soup, and hot cocoa.  
A trick to enhance the beauty of your gift is to layer the ingredients in a glass jar, resembling sand art.  Canning jars from your supermarket or glass jars from condiments like apple sauce, pasta sauce or pickles are ideal.
You can coordinate this all by presenting store-bought items with the mixes.  Offer pancake mix with a bottle of maple syrup and a bag of dried fruit.  Include a loaf of French bread or box of crackers with the soup mix.  For the hot cocoa, you can include cookies and a mug.
The links below are to recipes that can get you jump-started:
Old Fashioned Oatmeal Cookie Mix