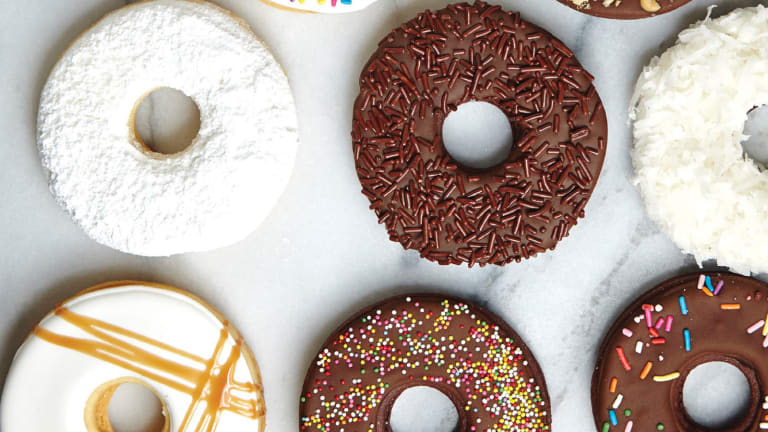 Doughnut Cookies: 2 Fun Recipes Plus Decorating Tips
This Chanukah, get creative with the family and decorate Doughnut Cookies. The assortment of designs and decorations are endless, so let the fun begin. I've included two of my favorite sugar cookie recipes: a no-fail sugar cookie recipe, VANILLA DOUGHNUT COOKIES and a decadent chocolate version, CHOCOLATE DOUGHNUT COOKIES.   
Keep reading for the full instructions.
DOUGHNUT COOKIES:
Make the cookies as per the cookie recipe you choose (one of mine or your favorite). 
You'll want to roll these out to about ¼-inch thick and cut with a doughnut cutter. 
You may double the cookies for a more realistic 3D look. 
Once the cookies are cooled you can begin decorating them with frosting and toppings. It's that easy! 
MORE: Creative Chanukah Treats
HERE'S WHAT YOU'LL NEED:
sugar cookie recipe
royal icing in vanilla and chocolate 
doughnut cookie cutter, or a medium and small round cutter
piping bags or squeeze bottles fitted with a round piping tip, or a ziploc bag
colored sprinkles, chopped nuts, coconut, caramel drizzle (optional)
MORE: Chanukah Fritters and Chocolate Gelt Ideas
COOKIE & ICING TIPS:
I like to roll my dough in between a Silpat and parchment paper. This helps cookies maintain an even thickness.
Chilling the dough before baking helps prevent cookies from spreading in the oven.
Use light-colored baking sheets so that cookies don't get browned on bottom.
Rotate cookie sheets halfway through cooking time to ensure even baking.
Cookies can be frozen in advance if sealed properly with saran wrap and placed in airtight containers. (Better not to freeze iced cookies.)
Royal icing hardens quickly so keep containers covered.
Allow enough time for royal icing to dry, sometimes 8-12 hours. Humid weather can interfere with the drying process. To speed up drying, iced cookies can be placed near a fan or air conditioner, never in the fridge. You want to keep away from humidity
MORE: Decorating Doughnuts
MORE: Chanukah Gift Guide
RECIPES ORIGINALLY PUBLISHED IN JOY OF KOSHER WITH JAMIE GELLER MAGAZINE WINTER 2014 SUBSCRIBE NOW
Want stories like this delivered right to your inbox? Sign up now for our *free* JOY of KOSHER Newsletter.