Easy Chanukah Decorations & Table Settings
Calling all Jewish Hostesses! Let's use our year-round Jewish holidays to express our creative passions, as well as our desire to keep our families coming back for yummy food and a great Jewish holiday atmosphere. With so many table setting shopping resources at our fingertips, its exciting to set a fun holiday table that combines the old with the new, has a dash of color and sparkle, while also making sure to connect to the Jewish holiday theme at hand. No matter what your own personal style, budget, and the table decor that you already own, there is always a creative, yet easy way to update your holiday look.
This year, I decided to stick with the traditional Hanukkah blue and silver color combo mainly because I already owned blue water glasses given to me by my consuegro (Syrian word for son-in-law's mother) as a Rosh Hashanah gift, plus I happen to own a set of blue and silver rimmed Greek style dishes (a perfect Macabee theme!). Wanting to add some holiday knicknacks to my Chanukah table, I decided to check out the local Ikea and West Elm stores and see what I could pick up without too much of a dent to my wallet.
After an hour or two of piling anything blue or silver into my shopping carts, this is what I finally ended up with:
Chanukah blue cotton place mats at $1.99 each. A great buy!
Silver mirrored squares - these come in a packs of 4 and are a great investment.  Buy a dozen or two to use on a dessert bar, as placemats, or even line your entire table with them. Your friends will definitely ask to borrow these mirrored squares when they see how cool they look on your table. I placed 4 in a row as a runner in the center of the table and then placed one atop each blue placemat.
Go run and buy these beautiful silver candles from Ikea before they run out of them!
Eight of these festive candles look so elegant lined up along the center of the table-"menorah style". Ikea also has gorgeous cobalt blue glass candle holders that fit perfectly as a base for my new silver candles. I placed four candles into their bases in a row to the right and the left of my own "shamash" vase. I filled my cobalt glass and silver vase with spray painted leaves that I found at my local florist. (Note- my son reminded me that this "menorah display" cannot be used as the actual menorah- even if I decided to use a candle as a the shamash in the center- according to tradition, the menorah has to be fashioned out of one piece of metal, wood, or glass...)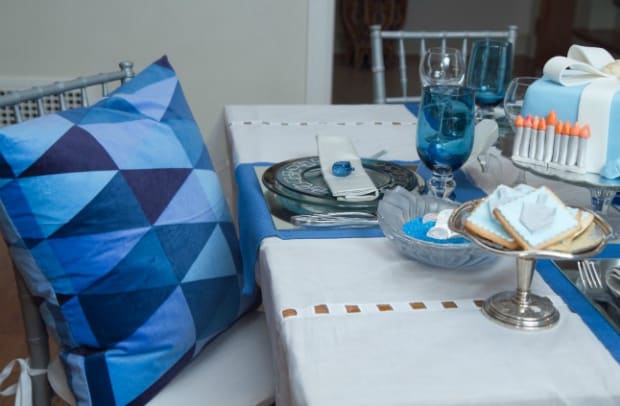 Use these suggestions as a basic guide for your own unique Chanukah table.   Start with your favorite silver, blue or white tableware as a base and fill in with flowers and accessories.  Be daring and let your personality show through! I'd love to see what you come up with!
For more of my Chanukah table resources and Jewish Holiday Table setting pictures from Jewish Hostesses all over the world, please check out The Jewish Hostess! Happy Holiday!