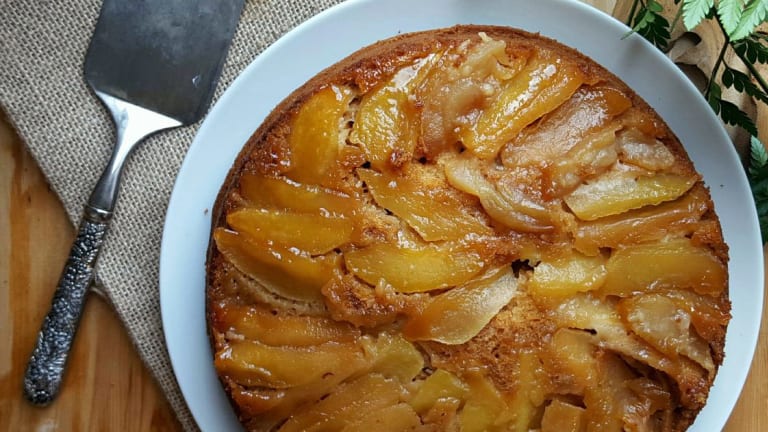 Apples, From My Little Family to Yours
Back home growing-up, both my parents worked long hours in the retail business, which meant that I often found myself with extra time in my mother's kitchen. I was eleven years old when I attempted to bake my first apple pie; I poured the flour onto the butter, added loads of sugar, molded it onto a round cake pan and… my first pie crust was a total disaster, but I did salvage the oven baked apples. 
We all have our baking mishaps, stories we can reminisce over or laugh about years later. TODAY, I am creating new kinds of memories with my two little girls, 9 and 10 years old.  For us baking-time has become an integral part of our bonding and new-found memories. 
As a single mom, I don't always have my daughters at my Rosh Hashanah table. There is a definite void when your children are not there and I know I am not alone in these feelings.   I encourage to welcome any single mothers you might know to your holiday table, especially if she doesn't have her children by her side.  You'll make a difference and do a very big mitzvah.
Single-mom holiday solitude aside, I've established a new family ritual that reinforces my little family: apple picking before the chaggim. Climbing red ladders at apple orchards, picking our apples and then pre-holiday baking with the apples is an activity we will always be able to have and cherish.
Apple pie remains a seasonal classic, but this year I wanted to explore out-of-the-box apple cakes or sweets, the ones with a slight twist compared to the standard apple cake. Most of these recipes would be perfect for your breakfast table during the chagim and that is why I preferred to use butter and other dairy in most of them. 
From my family to yours, wishing you a wonderful holiday season with lots of new-found baking memories, Shana Tovah to a sweet new year!
I recently visited my local farmer's market.  I bought and taste tested different types of apples and learned how each variety gives different results when baked, snacked-on or cooked with. Here is a grid with some of the apples I found to help you out.
Growing up in Montreal, Quebec, I can assure maple syrup is synonymous with Canadian culture. A staple in many homes, I see this Maple-Apple Upside-Down cake as a wonderful addition to your holiday breakfast table. Moist and delicious, the baked apples on top of the cake give it that beautiful rustic feel.
I love apple crisps, but now I love them even more with a blend of pears and a touch of orange zest. You can adapt this one easily into a pareve recipe by substituting the butter with the margarine sticks.
Growing-up in a traditional Moroccan home, every Rosh Hashanah dinner my mom served-up delicious caramelized quinces cooked with cinnamon and sugar. I adapted her recipe into hand pies. You can always replace quinces with apples; and for a nice touch, you can insert a cake-pop stick onto to turn them into pie pops.
For a light or gluten free dessert after a full-course meal or to cleanse one's palette after a fishy appetizer, a green apple sorbet might be a perfect option.