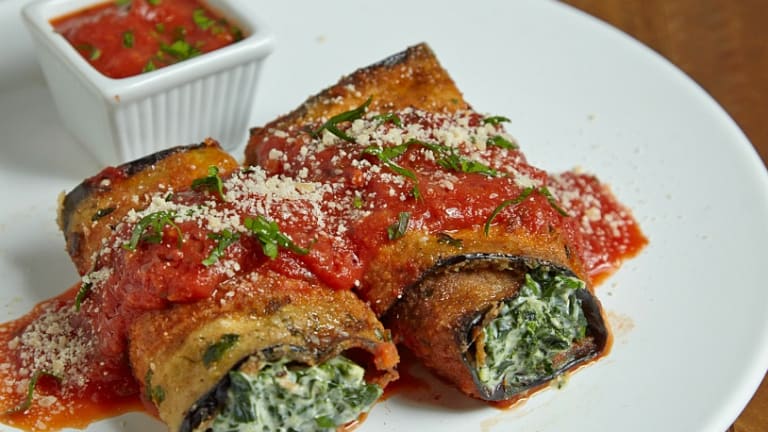 Eggplant Roll Ups Recipe Video
Yes, the rumor is true. I did eat 6 of these all by my lonesome when testing the recipe. Now in the interest of full disclosure I ate 3 for breakfast (was a late breakfast, more like brunch) and 3 for lunch (was a late lunch, more like linner). And yes you may have heard that I also fried up some extra eggplant to snack on in between. And while some people may be embarrassed to admit this I think it just proves how much of a winner this recipe really is. So hang on to your hats folks and watch me fry and roll and bake your new favorite Passover and year-round brunch, lunch, linner or dinner dish.
Get the full recipe for Eggplant Roll Ups here.
***Giveaway*** Now that you watched, we hope you loved it and will share with all your friends.  Thanks to our friends at PHILADELPHIA Cream Cheese we are offering you a chance to win one of (4) $75 Amex card, as we celebrate our love for their Kosher for Passover cream cheese.   Every week for the next 4 weeks we will be announcing another winner with each new video - stay tuned for more and keep entering for more chances to win. THIS WEEKS WINNER IS NATALIE Y.
Happy Kosher Passover and enJOY!
We're creating tons of new Passover recipes featuring PHILADELPHIA Cream Cheese as part of our new partnership, see them all at JoyofKosher.com/Philadelphia.
Kraft Foods is providing the prizes for this program at no cost to me.  This program is not administered or sponsored by Kraft Foods or its affiliates, but solely by JoyofKosher.com.