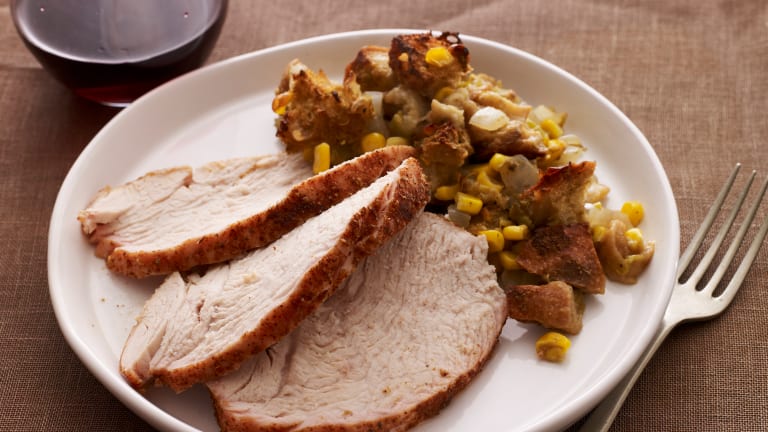 Eight Great Recipes for Thanksgiving
So turkey day is almost here. Ain't such a big deal for kosher cooks – after all, we're used to cooking 130 feasts per year, when you combine holidays and Shabbos. So what's one more? 
Whether or not you celebrate Thanksgiving in your family, the flavors are classically fall. In my life, turkey, stuffing, and pumpkin pie don't have to be reserved for the last Thursday of November, with football playing in the background.
Thanksgiving food is my hubby's favorite and his annually requested B-day meal. It's my mom's favorite too. 
Legend has it that when she was expecting my sister, due at the end of November, she insisted that my grandparents cook their classic Thanksgiving meal for her just in case she would miss it. Like many immigrants, my grandparents embraced America and all of its freedoms with love and enthusiasm, and they made it a point to prepare a Thanksgiving feast that would rival that of any Mayflower descendant. 
I'll make sweet potato casseroles and pumpkin pie any time of the year, using any excuse. "You got an A on your report card? I'm going to make you a pumpkin pie!" 
"What a lovely summer day, I think I'll make a pumpkin pie." 
"You fell down and scraped your knee? Wouldn't a pumpkin pie make it all better?" 
That's how it goes around here. Truth be told I am the only one that really loves a good Pumpkin pie so all the excuses are just so that I can bake one for me, myself and I.
PUMPKIN PIE WITH CARAMEL WHIPPED CREAM (bc it's thanksgiving and you must have a pumpkin pie!)
So for this season and beyond, we have a non-dairy Thanksgiving meal with all the trimmin's. 
SOUTHWESTERN TURKEY BREAST & GREEN CHILE STUFFING
You don't have to roast a whole bird, the boneless breast is sometimes the perfect answer to a smaller crowd. 
SKILLET CORNBREAD WITH DRIED CRANBERRIES & SAGE
Who can resist a good cornbread. 
So you can pour it over these biscuits...
With or without the chives these biscuits are perfect. 
SWEET POTATO CASSEROLE WITH MARSHMALLOW TOPPING
It's a classic for a reason, you can't have a Thanksgiving style meal without the sweet potato casserole with marshmallows. 
PUMPKIN COOKIES WITH WHITE CHOCOLATE CHIPS & WALNUTS
For those that don't want the pie and to use the rest of the can make these cookies.
Stress nisht! 
These are all quick prep recipes for your homemade kosher Thanksgiving meal. Now if that's not something to be thankful for, then I don't know what is. And just as it doesn't have to be Thanksgiving to eat turkey, it doesn't have to be Thanksgiving to thank G-d for all that you have: use this buzz to remember that.