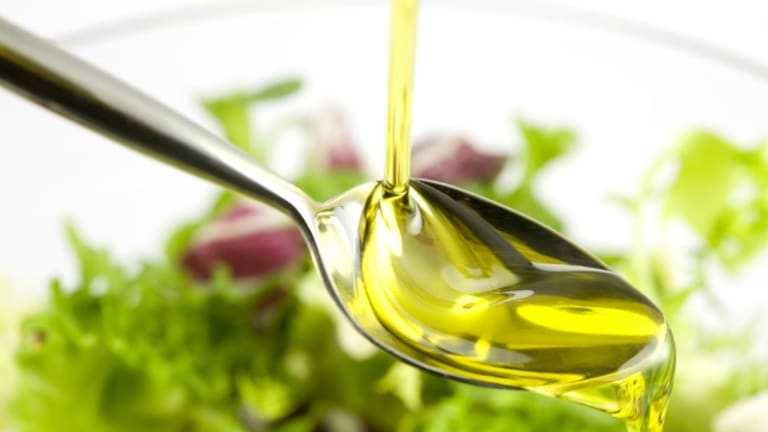 EVOO is Kosher for Passover and All Year Round
There is something really great that we can use for Passover. It is delicious, all natural and minimally processed. All Extra Virgin Olive Oil is kosher all year round and that includes Passover!! The savvy Passover shopper is buying great olive oil this year.
Olive oil is produced by grinding or crushing and extracting the oil. A green olive produces bitter oil and an overripe olive produces rancid oil. For great extra virgin olive oil it is essential to have olives that are perfectly ripened.
Purchasing olive oil and knowing how to use it can be confusing, but I am here to help.  Here is a summary of olive oils and their uses:
Virgin olive oil comes from virgin oil production only and has acidity less than 2 percent. This oil is best used for sauteing and for making vinaigrettes. It is generally not as expensive as the extra virgin olive oil but has a good taste. This oil does require hashgacha.
Pure olive oil. Oils so labeled are usually a blend of refined and virgin production oil. This oil is perfect for sautéing. It does not have a strong flavor and can be used for making aiolis and cooking. This oil does require hashgacha.
Extra-virgin olive oil (EVOO) comes from virgin oil production only and contains no more than 0.8 percent acidity. Extra Virgin olive oil accounts for less than 10 percent of oil in many oil producing countries. The superior fruity flavor makes this oil best used for vinaigrettes, drizzling on soups and pastas and dipping breads and vegetables. Extra virgin olive oil does not require hashgacha (even for Pesach) as it is cold pressed.  Extra virgin olive oil is the highest quality olive oil. It is typically more expensive than other olive oils.  Extra virgin olive oil has a long list of health benefits from reducing coronary artery disease, cholesterol regulation and possibly reducing risk of certain cancers. This makes the decision for using extra virgin olive oil a no-brainer.
When cooking for Passover and for every meal, I recommend whole, natural ingredients. I never go to the dark side of cooking with products that are loaded with laboratory made ingredients and faux flavors or colors. For this holiday and everyday—let's keep it real.
Passover Recipes With Olive OIl