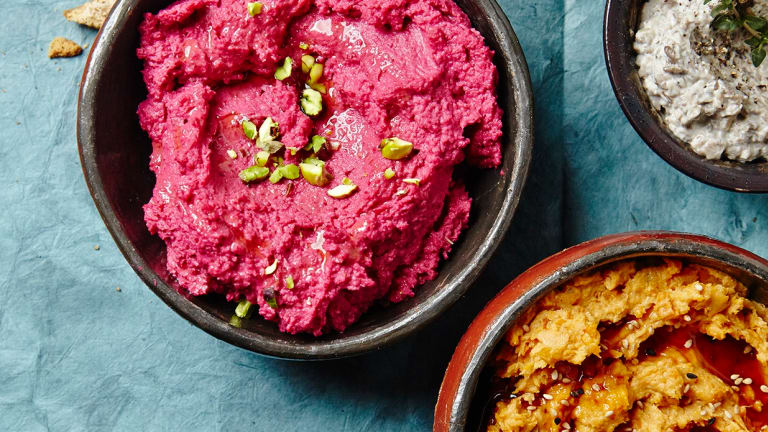 Exciting Homemade Dips That Are Not What You Expected
Some people call it mezze, some call it tapas, still others reference salatim; but no matter what they are titled, traditional dips are found at almost every Shabbos table. This phenomenon is rooted in many cultures and has become such a popular fad that there are entire stores dedicated to selling a large variety of dips, both traditional and new. We decided to try an experiment: play up the favorites and give them a makeover. Our regular pita-dipping fare with a little primping and color. 
Why are we suddenly so inspired? Mishloach manos! This year, wow your friends and family with new, exciting, homemade and original dips in tiny little jars with pretty, big ribbons and crunchy pita chips— a winning idea that could be used later for the seuda or the upcoming Shabbos.
Tip: Pack dips or dip of choice in small salad dressing containers along with a pita.
MORE: Mishloach Manot in a Jar
THE HUMMUS
This paste is probably one of the most popularly known, which also made it our greatest challenge. It's always hard to deviate from the norm and drop old habits. This hummus was just "dyeing" for change and its solid flavor was begging for something new and exciting. We had just the fix! Enter roasted beets to help the color go from drab to FAB! Its new subtly sweet flavor is accented by the salty crunch from pistachios.
ROASTED BEET HUMMUS WITH PISTACHIOS
MORE: Secrets to a Healthy Purim
THE AIOLI
Our mushrooms needed luxury. We wanted to give them that "wow!" factor to show people what this little brown bud can really do. What better way to ramp up the elegance than by adding more mushrooms? And by mushrooms, we mean truffles. The truffle oil we used in the recipe gives a deeper, more velvety feel to the dip, even making mushroom haters go MMMM! 
MORE: Mishloach Manot Recipe Ideas
THE TAHINI
Tahini needed some warmth in flavor and color. We wanted to take it from being a lonely falafel topper to a real show-stopper. With roasted sweet potato to brighten the color and improve its consistency, and silan (date syrup) to bring out the sweetness, not to mention the black-and-white sesame seed garnish, this dip becomes phenomenally rich and is in a category all its own.
SWEET POTATO TAHINI WITH SILAN
MORE: Everything is Better With Tahini
THE TOMATO DIP
Tomato and pomegranate sound mismatched, but we found – what better way to say it? – that opposites attract! The flavors came together phenomenally! Even though we started with the classic, we ended with anything but! Pomegranate juice and oregano transformed the dip, giving it both attitude and zing. 
Here's to making this Purim exciting and fun, with a totally new spin on the classics! Be prepared to have your friends flip out and upside down.
Recipes originally published in JOY of KOSHER with Jamie Geller Magazine Purim 2015 SUBSCRIBE NOW
Want stories like this delivered right to your inbox? Sign up now for our *free* JOY of KOSHER Newsletter.