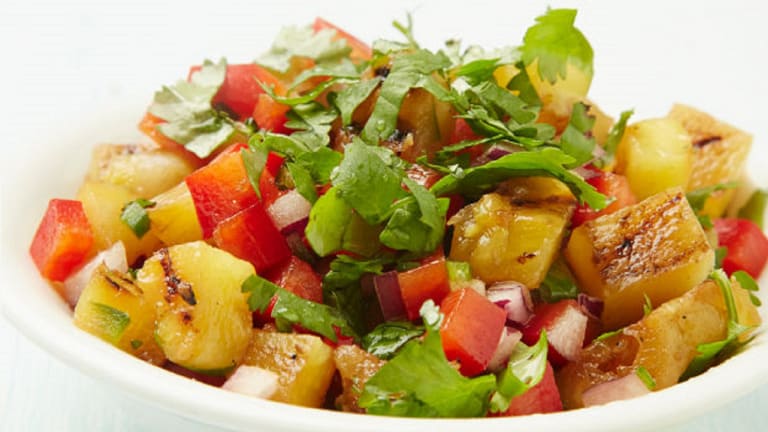 Father's Day Top Grilling Recipes
Father's day is known as a day of grilling, a day where the Dad's get to be the grill masters.  While Mother's get brunch and massages, Father's get to grill. I am not sure where or why this tradition came about but I'm not knocking it.  
In my house my middle son has taken on the job of grilling, so at least his Father can relax, while I make some marinades and salads and our son cooks his dinner.  If the Dads in your lives like to don the apron and get grilling the least you can do is be the sous chef. 
Scroll down for 22 Amazing Father's Day Recipes For The Grill
As we approach Father's Day, I have a few recipes to share with you today, that you and your family will love!
Garlic Flatbread on the Grill
If you've ever thought about grilling a pizza but weren't sure how to avoid the cheese, then start with garlic bread.   I make this flat bread every week in my oven, but the grill takes it to the next level.  Start the night before by preparing this recipe for No Knead Pizza Dough.  When ready, roll out the dough or use your hands to make it flat, the shape doesn't matter.  Chop fine some garlic and parsley.  When the grill is hot, place the dough on top, brush it with olive oil and sprinkle on parsley and garlic evenly.  Cook for about 2-3 minutes until the bottom is crispy, move to the top rack to keep hot if desired.
Pargiyot - Skinless, Boneless Chicken Thighs
Our next favorite food to grill is Pargiyot - Skinless, Boneless Chicken Thighs.  You really can do anything to these guys, we like to use a spice rub and eat with salad.  This recipe uses cilantro, which I just found out my Dad hates, but if yours loves go for it.  Cilantro Chicken with Lime is a great easy recipe and you can also sub the cilantro for parsley if you prefer.
Grilled Steak
We all love Grilled Skirt Steak, this recipe is served with and almond pepper sauce, but you can also try it with a Chimichurri.  Add grilled portobellos to help stretch the meat a little further and keep it healthier, try this recipe for Portobello and Chimichurri.
Frozen Dessert
You won't have much room for dessert after this feast, but you might like to add something refreshing and/or alcoholic.  Try this Frozen Strawberry and Watermelon drink with or without vodka..  Hint: If you have a bag of frozen strawberries and need something liquid to mix in with the vodka, try some lemonade.
Still not sure what you want to make? Check out 22 MORE FATHER'S DAY GRILELD RECIPES: