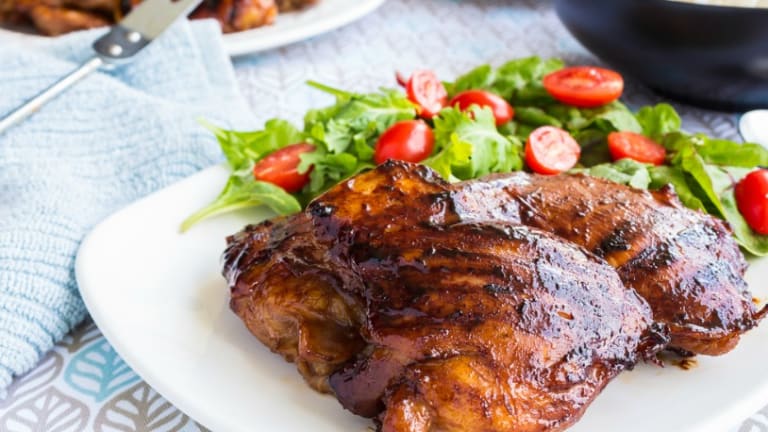 Father's Day Top Grilling Recipes
I just got back from a wonderful family early summer vacation with my Aba (father). To celebrate his 65th birthday, he took my brother and sister and I away for a week in Whistler, British Columbia without any distractions. No little ones, no spouses, just us. It was a very special time that I know we will all cherish forever. We had some serious conversations, we cried and we laughed (especially at our home videos), but most of all we enJOYed!
Scroll down for 22 Amazing Father's Day Recipes For The Grill
My Aba likes to cook and is pretty good at it too, but somehow I got drafted to guide the menu for the trip and we grilled most of the meals, a perfect way to eat amid the cool mountain air and star-filled sky. So as we approach Father's Day, I have a few newly Aba-tested (and approved) recipes to share with you today, that you and your family will love!
The highlight of the trip was my famous garlic flat bread that we cooked on the grill.  I make this every week in my oven, but the grill took it to the next level.  Start the night before by preparing this recipe for No Knead Pizza Dough.  When ready, roll out the dough or use your hands to make it flat, the shape doesn't matter.  Chop fine some garlic and parsley.  When the grill is hot, place the dough on top, brush it with olive oil and sprinkle on parsley and garlic evenly.  Cook for about 2-3 minutes until the bottom is crispy, move to the top rack to keep hot if desired.
Our next favorite was the Pargiyot - Skinless, Boneless Chicken Thighs that we grilled.  You really can do anything to these guys, we put some spice rub and ate them with our salad on Shabbat.  This recipe uses cilantro, which I just found out my Dad hates, but if yours loves go for it.  Cilantro Chicken with Lime is a great easy recipe and you can also sub the cilantro for parsley if you prefer.
We all love Grilled Skirt Steak, this recipe serve it with and almond pepper sauce, but we enjoyed it with Chimichurri and I also made some portobellos to help stretch the meat a little further and keep it healthier, try this recipe for Portobello and Chimichurri.
We also had some boned chicken and my father had some homemade apricot jam which he brushed on the chicken towards the end of cooking or you can use this recipe for your Apricot Chicken.
We didn't have much for dessert aside from good quality chocolate, but we had lots to drink.  Our favorite was the Frozen Strawberry and Watermelon drinks spiked with vodka.  Hint: If you have a bag of frozen strawberries and need something liquid to mix in with the vodka, try some lemonade.
If you like my recipe ideas, say hi to my dad, pictured here from our family trip, Happy Father's Day Aba.
22 MORE RECIPES: 
Main image: Grilled Chicken Thighs Marinated in Teriyaki Sauce