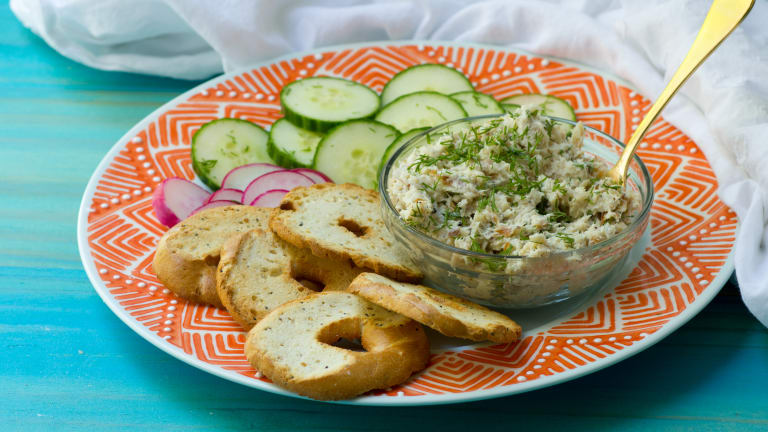 7 Incredible Recipes For Your Fish Course

We know you need your gefilte to start a meal, but sometimes we get bored of the plain stuff so we like to doctor it up and sometimes try something new.  These 7 recipes are perfect to start any Shabbat or holiday meal.  
Here is how we doctor up jarred or frozen gefilte.  Mix it up and pan fry it, how can you wrong. 
Get the receip: Tarragon Fish Croquettes with Honey Wasabi Dipping Sauce
These salmon cakes can be served hot or cold.  Infused with the flavors of curry and made with chickpea flour instead of eggs, it is gluten free and egg free and full of inexpensive canned salmon.  You won't believe how good these are. 
Get the recipe: Indian Inspired Salmon Cakes
Ever thought of turning your gefilte fish log into fish sticks?  We did and now you will too.  We guarantee you will have some happy kids at your table with this dish. 
Get the recipe: Crunchy Baked Gefilte Fish Sticks
Sushi has been a big hit for Shabbat meals for a while, but you don't have to roll it up and work so hard.  Just make a sushi salad with fake crab or fresh or smoked salmon. 
Get the recipe:Sushi Salad
If you want to stay closer to your usual, try this pink rimmed gefilte, that uses borscht to flavor and color your fish for a really elegant presentation. 
Get the recipe: Pink Rimmed Gefilte Fish
Lettuce wraps are really good idea for an appetizer or a snack and these are filled with fake crab, perfect for your fish course. 
Get the recipe: Mock Crab Salad Wraps
Love whitefish salad? Make your own doctored up with horseradish and serve for your fish course.  Make extra so you can have some to take for lunch during the week. You won't be able to get enough. 
Get the recipe: Whitefish Salad with Horseradish
Want stories like this delivered right to your inbox? Sign up now for our Joy of Kosher weekly newsletter.