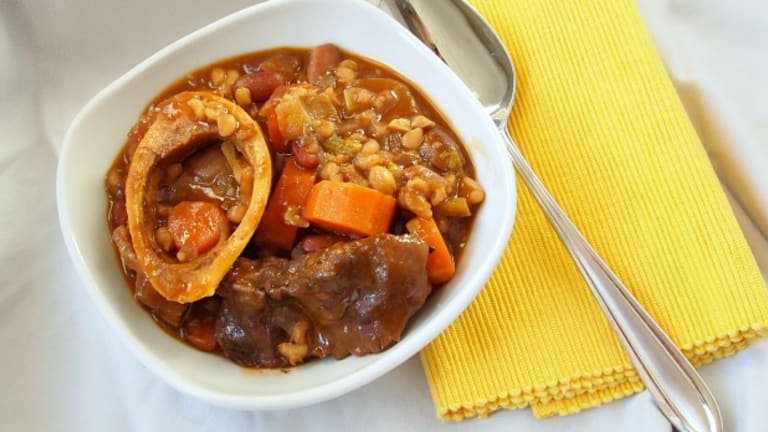 Flavorful Recipes Using BBQ Sauce
In life, there are two kinds of people.  Ketchup people and mustard people.  I am A mustard people.  I've never been a fan of ketchup, but I actually love BBQ sauce. Okay, I guess that means there are three kinds of people.  
The rich, smoky flavor of BBQ sauce is very satisfying and depending on the sweetness or spice can offer a range of flavors that ketchup can't seem to match. I never really used BBQ sauce on anything but meat or chicken until recently, and I can kick myself for not trying it sooner.
Now that BBQ season is starting up and there is more sauce laying around, it's time to try some other recipes that shine with a little sauce.  Start by making your own BBQ sauce or finding your favorite store bought variety, then keep reading for new ways to use that bottle. 
One year my sister-in-law made a now famous (in our family and circle) BBQ Seitan Pizza that my husband is still talking about.  As a vegetarian who plays host to carnivores, she was always interested in BBQ chicken pizza recipes she would read about or see on TV commercials and figured seitan, a textured wheat gluten that can mimic the texture of meat, could be a good sub for the chicken and she was absolutely right.
No tomato sauce needed for this recipe. Just your favorite BBQ sauce, Seitan and smoky Gouda cheese. I like to add some crunchy red onions and sometimes even diced jalapenos for some kick and color.
While I was realizing all the possibilities of BBQ sauce I decided to try it in a hearty stew. I like to make stews with a lot of beans and vegetables and only a little bit of meat. It cuts down on the fat and calories and you really don't miss the extra meat.  The flavor from a good BBQ sauce was the perfect accompaniment to the dish and had the right tang to go with the cowboy twang. My Cowboy BBQ Bean Stew is a perfect easy weeknight dinner anytime.
I bet you never thought to add BBQ sauce to a creamy pasta dish.  If you're looking for a creamy sauce without the cream, this cauliflower cream sauce is perfect for you! The BBQ sauce adds some extra tang.  You can pour this sauce over pasta, vegetables or pretty much anything you can think of!
Pulled Brisket and BBQ Sauce Stuffed Latkes
Latkes are the perfect pairing with BBQ sauce and even better when they are stuffed with brisket. 
Some people just don't like fish so this sushi is made with BBQ brisket, oh my!
You will need to make the BBQ sauce in this recipe but it is so worth it. 
This is not your typical mushroom dish: Oyster mushrooms are infused with smoky Asian flavors then combined with a savory cooked Roasted Tomato Balsamic BBQ sauce. Perfect as a vegan main entree or part of an Asian fusion meal.
Pomegranate BBQ Sauce Meatballs
Flavorful BBQ sauce takes simple meatballs very far. 
There are several components to this BBQ Collard Rolls With Pickled Onions and Jicama Carrot Slaw recipe. The result is an impressive vegan entree packed with fun flavors. In this dish, tangy sweet potatoes are covered in homemade BBQ sauce, then wrapped with DIY pickled onions in collard greens.