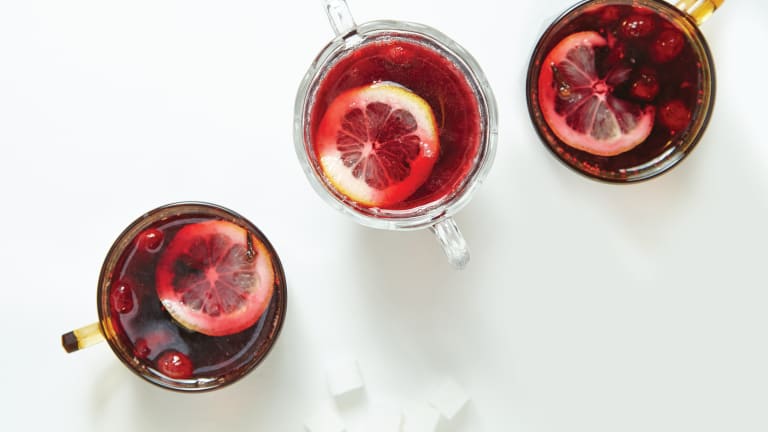 Fruity Cocktails to Complement Your Holiday Meal
Fruit and liqueur make a perfect combination for sweet cocktails before, after, or during your holiday meal. In the sukka, at the Purim seuda, or even at your Tu B'shvat seder, these bartender-worthy fruit cocktails will impress your guests and create a fun ambiance at your table.
This bubbly sweet apple fizz cocktail will pair equally well with appetizers before your meal or along with your fish course. One part tradition (the apples) plus one part festive (note the bubbles) equals a great palate opener for your guests.  
MORE: DIY Homemade Bubbly Cocktails
The shaken fruits in this Canadian compote cocktail transform it into a lovely plum color. The gentle flavors complement any beef or chicken entrée you might prepare. And if your guests are willing to enjoy the fruit pulp right out of their glasses, you can even save yourself some work and skip making up a more "traditional" compote course!
The cool and crisp tartness of this pear grapefruit granita is the perfect palate pleaser after a full-course meal! It will pair well with your favorite honey or green tea cake (or with those amazing brownies and mandelbrot that you are already famous for).  
MORE: 4 Slushy Cocktails for Adults!
A cup of mulled wine, whether indoors at your holiday table or outdoors in the sukkah, gives you and your guests a little more time to enjoy each other's company and the tranquility of the holidays. Substitute Concord grape juice for the red wine and brandy and even your youngest guests will want to hang around a little longer.  
MORE: Drinking in Fall Colors
Recipes originally published in Joy of Kosher with Jamie Geller Magazine Fall 2014
Want stories like this delivered right to your inbox? Sign up now for our Joy of Kosher weekly newsletter.