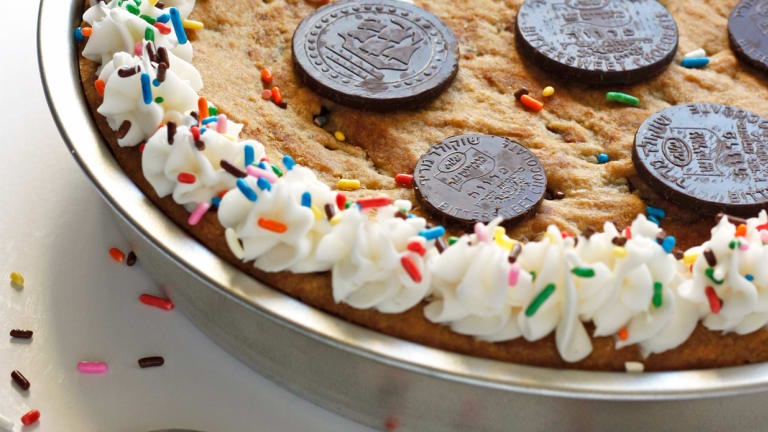 Fun Channukah Treats the Kids Will Love!
This Chanukah, get creative with your traditional holiday treats. Add some color, cut out some shapes, and enjoy! Here are a few ideas of easy-to-make Chanukah foods that your kids will love...
GRILLED HOMEMADE NUTELLA AND BANANA DREIDEL SANDWICHES
I have created some fun and easy recipes to help kids and adults celebrate the Festival of Lights... Of course, the traditional latkes and sufganiot are delicious, but this year, let's make our Channukah menus a bit more exciting! 
MORE: *Free* Channukah Recipe E-book
MINI STAR OF DAVID FRUIT SKEWERS WITH VANILLA CASHEW CREAM
Editor's Notes: Make sure to plan in advance and soak the cashews overnight to increase health benefits and to ensure a creamy consistency.
These Mini Star of David Fruit Skewers with Vanilla Cashew Cream are a perfect snack for a Channuka party! Kids will love the shaped fruit.
MORE: Easy Fried Sweets for Chanukah
There's something about a cookie cake that feels so fun and celebratory. And Chanukah is a great reason to celebrate! This gelt cookie cake is made with my all-time favorite chocolate chip cookie recipe. It's golden on the outside, soft and chewy on the inside, and made even better with gelt, frosting, and plenty of sprinkles. Everybody will be asking you for the recipe! So grab your gelt and multi-colored sprinkles, because it's time to celebrate the miracle of lights.
MORE: The Secret to Frying the Perfect Latkes
Want stories like this delivered right to your inbox? Sign up now for our *free* JOY of KOSHER Newsletter.