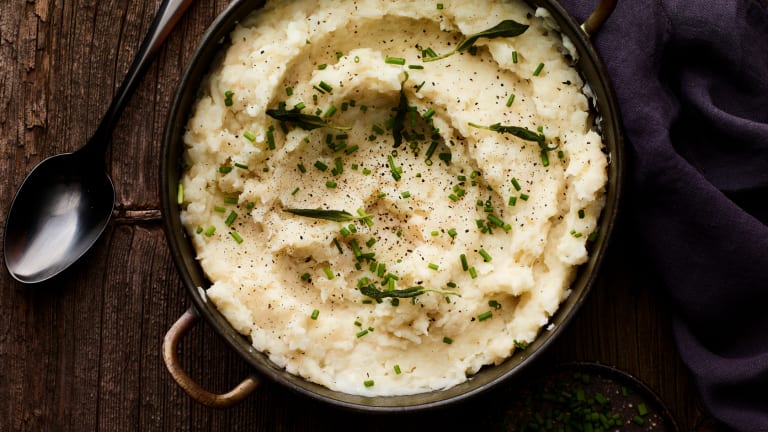 Get Inspired with These New Thanksgiving Sides
When I was growing up the turkey day feast was quite different than hubby's. I'm not saying superior. I'm just saying different.
Back home, my gourmet chef grandparents made the most exquisite Thanksgiving meal – with a strong focus on turkey stuffing and gravy. Everything in the stuffing was finely minced by hand and it was loaded with onions and mushrooms. Absolutely superb!  Though we were gathered for a real American feast, there was no cornbread, and no sweet potato or green bean casseroles. They were dedicated citizens, but those were lines these immigrant cooks wouldn't cross. And it would never occur to them to bake with marshmallows. It took my very American aunt –who had married into the family – to bring the pumpkin pie and whipped cream. Without her, we would have missed out on that quintessentially American dessert in favor of a Hungarian cake with an unpronounceable name.
I loved their Thanksgiving menu, and wish they were around to show me how to recreate that magic (I wish they were around for so many other more important reasons too). I've had to figure a lot of this out on my own and with a little help (ok a lot of help) from my friends and new family. So after picking up a few tips from my mom-in-law's Thanksgiving table I can now present you with all these Americana sides (just like hubby had growing up) starting with a super-sweetsie sweet potato casserole topped with hot, golden marshmallows. 
If you like your sweet potatoes as sweet as I do, add a 1/3 cup of brown sugar to the mashed sweet potatoes and you're good to go.
NON-DAIRY GREEN BEAN CASSEROLE
We've taken out the dairy, but not the flavor. And trust us, you'll want to make an extra batch of the crispy onion topping just for snacking.
Homemade aioli is the key to fluffy, flavorful mash, and will have you and your family coming back for seconds (and thirds!).
No matter how amazingly moist your turkey is, it's just not the same without gravy. We've added porcini mushrooms and turkey for a rich showstopper of a sauce.
Hasselback Butternut Squash just may become your new favorite Thanksgiving side dish. The cheese is optional, so omit it and serve it as a non-dairy veggie side.
This stuffing works both in a pan or inside a turkey, or even as individual servings, like the stuffin' muffins shown here. To save time on Thanksgiving prep, you can make the cornbread part of the recipe in advance.
If you still haven't found what you're looking for, here are a few more sides to complete your Thanksgiving dinner.
Make sure to top off the night with a comforting Hot Hard Apple Cider paired with your favorite Parve Thanksgiving Desserts. 
Tell us about your family's favorite Thanksgiving sides.