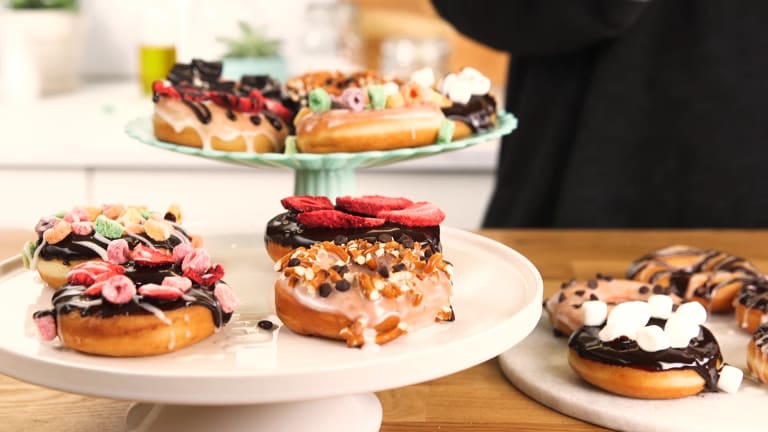 Get This Doughnut Party Started
Warm, gooey-glazed doughnuts are probably one of the best things about Chanukah. You could mix up a simple glaze with some milk and confectioner's sugar and call it a day. Or, you could go all out and make it a party.
With one basic doughnut, a couple of glazes, and lots of fun and colorful toppings, your guests can create one-of-a-kind desserts that will be the life of the party this Chanukah. Below are all the elements you need to throw your own Doughnut Party.
Making homemade doughnuts is easier than you think. And we've got an overnight trick so the dough rests while you do.
GET GLAZED
Chocolate or vanilla? Why not both? Below are two super easy glazes that will have your guests drizzling and drooling.
This rich chocolatey glaze will definitely get the party started.
This glaze really lives up to its name. And it's made with real vanilla.
THE TOPPINGS
Let's face it, the toppings are the real star of the party. So you'll want to go all out. Below are a few of our suggestions, but let your imagination run wild. 
Fruity breakfast cereals
Mini chocolate chips
Chocolate shavings
Chopped pretzels
Freeze-dried berries
Coconut
Mini marshmallows
Cookie crumbs
Graham cracker crumbs
Gummy candies
PUT IT ALL TOGETHER
Place small bowls of multiple toppings, along with bowls of glazes on the table. Serve up still warm doughnuts to your guests and have them create their own doughnutty combinations. 
Would you like some filled doughnuts for this party?
Classic Jelly Filled Sufganiyot
Some times you just want a simple filled doughnut so we got that too. 
Sufganiyot Not Filled With Jelly
We also like something a little more modern and gourmet, what do you think of these 3 fun filled doughnuts. 
Now, who's ready to party?