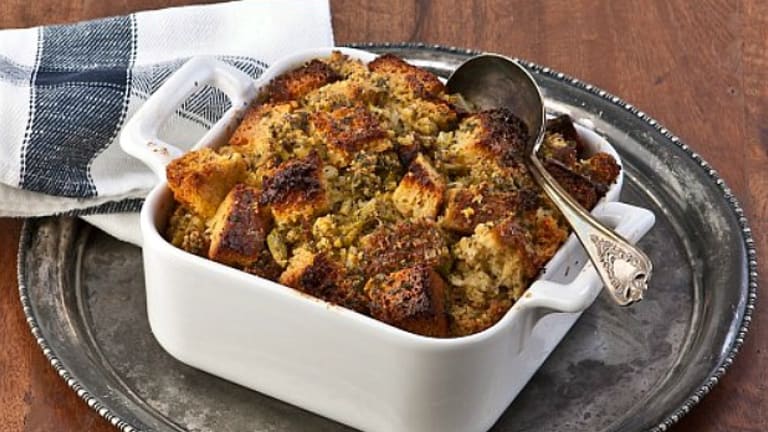 Gluten Free Recipes for Thanksgiving
I'm a big fan of stuffing. I love simple stuffings – like the old Stove Top stuff (don't judge).  Of course it is sadly full of gluten so we can't touch the stuff, but we can recreate our own.  And guess what?  It is smashingly easy and way less expensive.
Here's how you do it. Get some of your favorite gluten-free bread. The bread counts for a lot of the flavor. Whether you buy the loaf or make it doesn't matter. Just make sure you love it.
And then just because it makes stuffing taste all the better, make or buy a GF cornbread. Then cube it up and leave it out to get stale. Cube up the other loaf of bread and toss it with a little olive oil and more herbs and send it into a low oven to toast slightly and then leave it out on the counter for a few days to get really stale.
And then the only work left is to heat up the broth just a little bit, sauté a little celery and onion with some seasonings, and toss it all together gently and bake.  Move over Stove Top. We might be gluten-free, but we aren't stuffing-free.  
Dairy Free/ Gluten Free Pumpkin Pie
Because Thanksgiving should be about more than stuffing, this is about pie.
Reinventing that boring pumpkin pie was this year's late summer challenge. Neither of us tolerate dairy in huge quantities anymore and the pie was begging for a makeover.
The 1st test was not bad. The 2nd try a little more promising and the last two were great. There are a few tricks to making this pie taste great, but heck – even if you just throw it together, it will taste terrific.
At last, Thanksgiving will be more than just about stuffing – it'll be about stuffing, mashed potatoes and pie. I'm thankful.  And here are a few more sweets that even the gluten free among us can tolerate. 
GLUTEN FREE HONEY BUTTER PRETZELS
November is prime time for football lovers, and along with the contest comes a drive for winning snacks. These classic Gluten Free Honey Butter Pretzels are baked, hot out of the oven, and drizzled with local honey and flaky sea salt. Easily portable, and a perfect foil for that salty-sweet craving every fan understands around half time, these will satisfy whether at home or away.
MORE: Your Favorite Desserts Made Healthier
GLUTEN FREE TOASTED PECAN AND COCONUT CARAMEL BROWNIES
These gluten-free brownies are the ultimate labor of love, but worth every delicious step. Once out of the oven, your house filled with the aroma of melted chocolate and toasted coconut, they might even trump the smell of a holiday turkey. The homemade caramel topping is not to be missed, and I promise your friends will more than likely prefer these over the boxed variety. Stacked on a plate with some cold glasses of milk, and it's go time.

MORE: How to Use Non-Wheat Flours
ALMOND CRANBERRY POPCORN BARS WITH ALMOND BUTTER DRIZZLE
A vegan spin on the classic popcorn bar laden with butter and sugar, this is healthier version, full of dried cranberries, toasted almonds, and a yummy, chocolate almond butter drizzle. A great after-school snack, these easy-to-assemble bars might disappear as soon as you make them, but you and your satisfied snackers will have no complaints- and the energy to conquer the rest of your day.