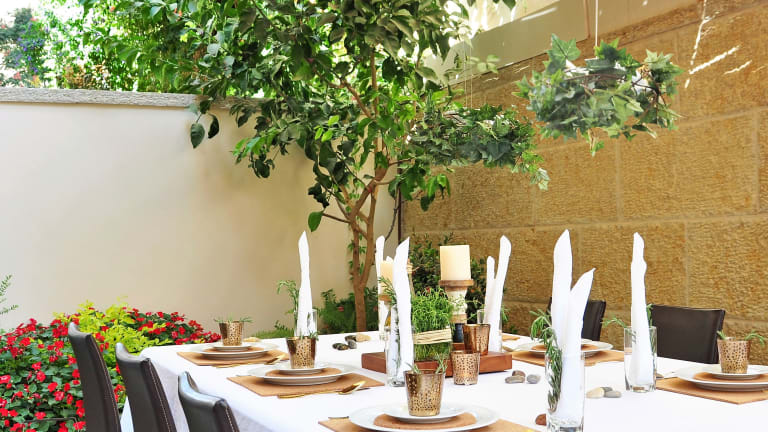 How to Decorate Your Sukkah This Year
It's that special time of year. That wonderful season when we hear the clinging and clanking all around us as we begin building our sukkahs. This ranks up there as one of my absolutely favorite holydays, when our whole family gets involved – especially our children - welcoming family, friends and let's not forget the "ushpizin", into our temporary abode.
In Israel it's "ordinary" to be able to go out into the sukkah during sukkot; to sleep, eat and spend time in our sukkahs and converting them into our homes for the duration of the chag.
Sukkahs pop up from every balcony and line the walkways sidewalks and alleyways outside of buildings and restaurants across the country. Even hotel gardens and terraces are transformed into sukkahs.
MORE: The Largest Indoor Sukkah In Jerusalem
It's fun being imaginative and creative when preparing the different aspects of the sukkah, especially when the whole family gets involved.
We're going out into nature for the occasion of building our sukkah against the backdrop of our garden and we take full advantage by capitalizing on nature's elements. We've included within our sukkah the existing natural surroundings, trees, green shrubbery and flowers, and we added potted plants to further enhance the decor all the while adhering to the spirit of the theme.
Beautifying and enhancing the look of our table using these themed elements definitely adds to the festive spirit.
To style our table, we chose a combination of cotton, which we're utilizing for the tablecloth and napkins, cork, which works wonderfully well for the placemats, and we're mixing in wood and metals. With the addition of scattered stones and fresh herbs, we've created a tablescapes that really reflects our theme and enhances our table. For the centerpiece we elected to go with an organic look - a combination of wooden candlesticks, a glass bottle filled with olive oil, garlic and herbs and a small vase filled with fresh thyme - which further contributes to our natural theme. For the final touch we hung some greenery overhead.
We made certain to include the different elements within the table setting, centerpiece and the surrounding area including above us.
MORE: Sukkot Menus
Investing the effort in styling your succah will definitely provide you with a warm and homey feeling, making it pleasant and enjoyable to spend time in during the chag.