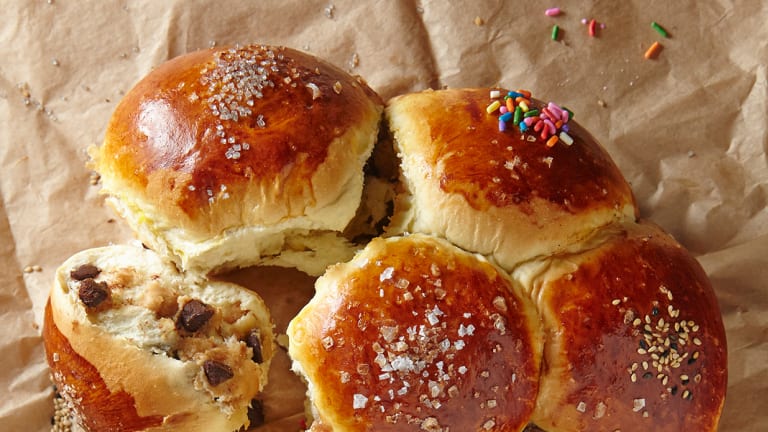 Guess What's In These Purim-Inspired Challahs?
Every year as Purim approaches, I become anxiety-ridden over having to come up with the most creative and delicious combination of flavors to fill hamantaschen. Some of my favorite creations have included dark chocolate ganache with salted caramel and coconut cheesecake hamantashen, recipes I love making as much as I enjoy eating. And then, last year I tried my hand at making hamantaschen-shaped challah, which was fun to look at, but just lacked that "wow" taste factor.
This year, instead of thinking about how to make challah look like hamantaschen, I focused on the taste and whimsy of Purim to create two delicious recipes evoking various flavors of the holiday. Purim gives even adults the chance to be silly and enjoy booing Haman with the best of 'em. And so I wanted to create a challah that would evoke that same childhood sense of whimsy. 
 This pull-apart "sweet surprise" challah is perfect because not only will you enjoy coming up with crazy flavor combinations to stuff into the challah, but your guests will have a fantastic surprise as they open up their challah balls to see what awaits inside. Poppy seed filling, or mun as I grew up enjoying, is a classic hamantaschen flavor. For some it is an acquired taste, but when paired with a simple glaze and a "monkey-bread" style challah, you will be hard-pressed to find someone who doesn't enjoy this rich treat. Both these recipes lend themselves well to serving at a Purim seudah and kids will enjoy helping out as much as they'll love eating these treats. So, go ahead, put those kids to work, and enjoy
WATCH: Become a Challah Expert
Possible Filling Combinations:
Peanut butter and jelly
Chocolate chips, marshmallow fluff, and graham cracker crumbs
Chopped macadamia nuts, shredded coconut, and white chocolate chips
Chopped candy or chocolate pieces• Chocolate chips and peanut butter
Raspberry jam and chocolate chips
Poppy seed filling
Halva and chocolate chips
MORE: How to Shape and Stuff Round Challah
PULL-APART SWEET SURPRISE CHALLAH
Tip: We topped each flavor with different topping to distinguish between flavors once baked. 
POPPY SEED MONKEY-BREAD CHALLAH


Gift Note: Bake monkey bread in individual muffin holders and pack in a bakery box.
MORE: 10 Challah Dough Hacks
Recipe originally published in JOY of KOSHER with Jamie Geller Magazine Purim 2015 SUBSCRIBE NOW
Want stories like this delivered right to your inbox? Sign up now for our *free* JOY of KOSHER Newsletter.