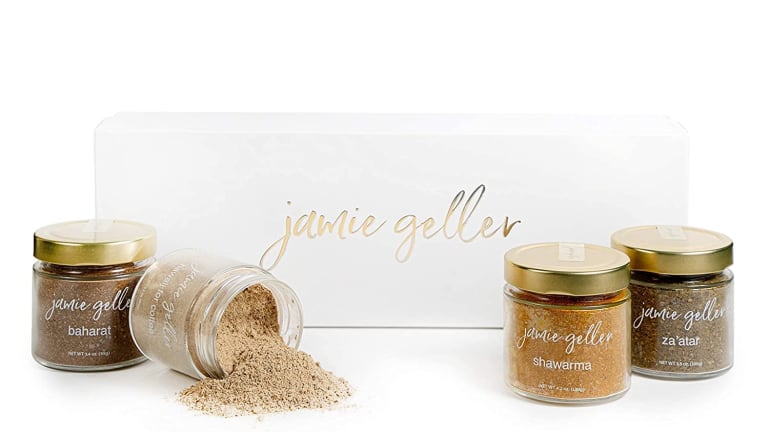 Hanukkah Gifts: The Ultimate Gift Guide
This year Hanukkah begins on Sunday night November 28, 2021 and while it's a little early for us procrastinators, the Black Friday sales and shopping messages have begun, so this gift guide will come in handy for all of you. 
Even with travel becoming more common again, there are still many who won't be able to be with their families for Hanukkah, especially since it's so early.  Although some may get to extent their Thanksgiving weekends.  
We have compiled gifts that will put smiles and virtual hugs to anyone on your list and don't forget yourself. 
JAMIE GELLER AROMATIC RAW WILDFLOWER HONEY GIFT SET
In our newest product launch we have 3 incredible flavored honeys from Israel.  After the success of our Rosh Hashanah Honeys we are back with 3 new flavors.  Honey + Lemon & Ginger, Honey + Lime & Mint, Honey + Raspberry + Rose.  All three are the perfect addition to hot or iced tea, drizzled over plain vanilla ice cream or yogurt and granola, and as a topping for fruit salad or french toast. 
After placing your order send us a message to have a Happy Hanukkah card inserted in the box. - Order Now
SWEET CELEBRATIONS HANUKKAH BENTO BOX
Celebrate holiday traditions with sweet treats in this three-piece Candy Bento Box® filled with three types of delightful Kosher-certified candies. - Buy Now
These were designed to give kids (or really anyone!) some extra loveliness to their 8 Hanukkah nights as there is one candle card for each night – each with a hand-written number on it. Whether they come with a gift each night or just a sweet note inside they are a great way to celebrate all 8 nights with something memorable. - Order Now
JAMIE GELLER TOP SELLING SPICES GIFT BOX
Our line of Israeli spices make the best gift and this is a gift box made up of our best sellers so you can be sure your friends and family will be getting the favorites.  Make sure to send them here to learn more and get recipes to use these spices in the best ways possible. - Order Now
Elegant Desserts ships its legendary desserts nationwide on Goldbelly!  Brooklyn-based Elegant Desserts has been creating cute and elegant, kosher and non-dairy desserts since 2000.  These Frozen Dessert "Donuts" are shaped like the fun baked good but are made to melt! These Frozen Dessert Donuts come in four flavors — Chocolate Vanilla Sprinkles, Salted Caramel, Hazelnut, and Strawberry — and are perfect for gifts and parties! - Order Now 
If you don't have space in your freezer you can also order Kosher Dessert Jars here. 
Check off your whole gift list with 1, 2, 3, 4, 5, 6, or all 7 of our delicious cookbooks.  Everyone loves the classic, traditional recipes all written out with simple instructions.  Get your copies today. 
When was the last time you played the dreidel game? If it's been a while then this game is for you. Bring back the joy and memories with new rules and new pieces to level-up the dreidel experience, producing fast and fun dreidel games your family and friends can play all Hanukkah long – maybe even year-round. 
If the question of what to make for dinner every night stresses you out or you want to cook healthier but just don't know how, it's time to try something new. 
Our healthy meal plans include access to over 700 healthy recipes and the use of the best meal planning app.  Use our preplanned menus or make your own, follow along with the cook mode when making any recipe and add notes so you remember any changes the next time.   Buy this for yourself, buy this for your friends and join together to start a healthier lifestyle together. -Buy Now
Poppits have become the it toy of the year so this Hanukkah version is perfect for anyone looking for a small gift for kids of all ages. - Order Now 
We are crushing on these gorgeous kitchen tools from Island Bamboo.  They come in tons of gorgeous colors, even if you don't like to cook you will love how these brighten up your kitchen. 
A fun culinary gift to the foodies among us who like to experiment in the kitchen.  
Novelty socks are a thing and these really make a fun unique gift for someone that has everything. - Buy Now
Staying in the blue family check out these gorgeous hand-blown drinking glasses from Mexico. You will love the feel of these hand made glasses that add a pop of color to the table. 
For the meat lover who has everything, get the gift of meat. Choose from one of six different meat sampler boxes complete with a personalized card. Grow & Behold pastured meat will be your new go to gift that will win you lots of points.
Use coupon code GBJamie10 for 10% off your first order.
KOSHER ISRAELI WINE
We love a good bottle of wine and a bottle or a case just so happens to make a perfect gift.  You really can never have too many.  Get your selection of kosher wines online and delivered to your door or the door of your favorite wine lover.  Some wines we recommend include Shiloh Wines, Covenant Wines, Bat Shlomo Wines, Tulip Wines, Recanati Wines. 
You can't go through a Hanukkah season without chocolate gelt and Veruca chocolates has finally transformed chocolate gelt into the treasure it is meant to be.  Give the kids the foil wrapped sacks and save these gold coins for yourself.  They are available in 3 flavors and certified Kosher by the CRC.  They are all molded to replicate an actual Judean coin dating back to the 4th decade BCE, and is finished in gold dust. They will also look gorgeous on your dessert table.  
Order your Veruca Chocolate gelt here.  
One more chocolate gelt that is a step above. These still have the foil covers, but they are high quality chocolate and they come in gold and silver.  Note the silver ones are mint flavored!! Get chocolate coins from Lake Champlain.
There was never a better time than now to learn to make your own gin.  With less going out and smaller gatherings, it's the perfect gift. 
There is something so comforting in a cup of a tea, when you gift a gorgeous box of tea your friend or loved one will think of you with every cup. 
We love this stainless Latke Spatula. Cute and practical at the same time.  Get it from Amazon.
Anyone would love to add these to their Hanukkah table.  Blue and white porcelain plates can be used for everything from salads, to appetizers to desserts.  Get it here or order your whole Hanukkah party set of disposable plates, cups, plasticware and napkins here. 
Move beyond those plastic Hanukkah cookie cutters to these hand crafted Jewish themed cookie cutter set perfect for Hanukkah.  Get the Hanukkah cookie cutters here.  
No more wax candle mess everywhere, use this tempered glass drip try and keep your counters clean. Get it here. 
Let us know if you find any other fun holiday gift ideas, share it in the comments below.