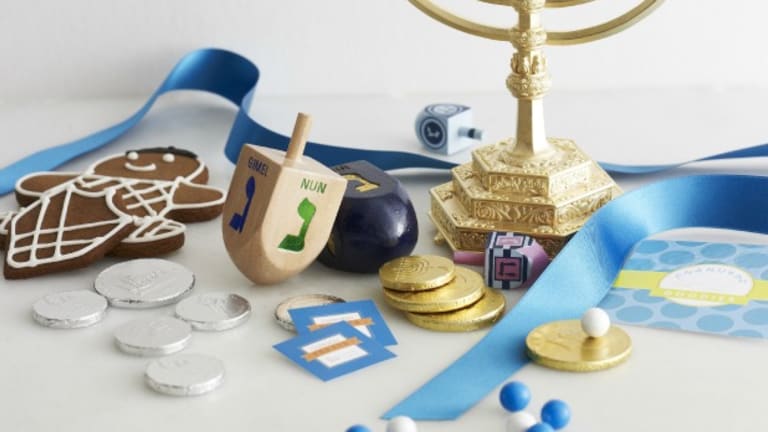 Hanukkah Gifts: The Ultimate Gift Guide
This year Hanukkah begins on Thursday night December 10, 2020 and while it's a little early for us procrastinators, time is of a different meaning since Covid-19 came along. 
Lucky for us Black Friday sales have begun and more shopping than ever will be done online so this gift guide will come in handy for all of you. With less in-person gatherings and less traveling to see family in other cities or states, we have compiled gifts that will put smiles and virtual hugs to anyone on your list and don't forget yourself. 
Check off your whole gift list with 1, 2, 3, 4, 5, 6, or all 7 of our delicious cookbooks.  Everyone loves the classic, traditional recipes all written out with simple instructions.  Get your copies today. 
If the question of what to make for dinner every night stresses you out or you want to cook healthier but just don't know how, it's time to try something new. Fresh Families is for anyone who ever wanted to break the cycle of overly processed frozen fish sticks, chicken nuggets or take-out pizza. Our nutrition philosophy is about fresh, fast and family-friendly food. The meals are designed for YOU. And they are foods that your whole family will enjoy! And they just happen to be Kosher!  Buy this for yourself, buy this for your friends and join together to start a healthier lifestyle together. 
Have you ever wondered if you could be a better cook without learning anything new? Do you ever burn food because you get distracted with a million other things going on in your kitchen, whether it be the other dishes you are cooking, the screaming kids, or the device in your hand that is always buzzing for attention? Maybe it's time for a smarter way to cook.  This oven is a space-saving kitchen companion that combines 12 appliances into one. It can air fry, dehydrate, slow cook, stone-fire pizza, grill, prof, convection cook and bake, broil, roast, reheat, toast, and keep warm.
This is the gift you get yourself or someone really special to change their life.  Save when use our coupon code: JEWLISHJUNE50OFF 
Get the recipes for our Pumpkin Challah Knots, Air Fryer Sufganiyot and Laffa with Zaatar. 
We are crushing on these gorgeous kitchen tools from Island Bamboo.  They come in tons of gorgeous colors, even if you don't like to cook you will love how these brighten up your kitchen. 
A fun culinary gift to the foodies among us who like to experiment in the kitchen.  
Staying in the blue family check out these gorgeous hand-blown drinking glasses from Mexico. You will love the feel of these hand made glasses that add a pop of color to the table. 
For the meat lover who has everything, get the gift of meat. Choose from one of six different meat sampler boxes complete with a personalized card. Grow & Behold pastured meat will be your new go to gift that will win you lots of points.
Use coupon code GBJamie10 for 10% off your first order.
KOSHER ISRAELI WINE
We love a good bottle of wine and a bottle or a case just so happens to make a perfect gift.  You really can never have too many.  Get your selection of kosher wines online and delivered to your door or the door of your favorite wine lover.  Some wines we recommend include Shiloh Wines, Covenant Wines, Bat Shlomo Wines, Tulip Wines, Recanati Wines. 
You can't go through a Hanukkah season without chocolate gelt and Veruca chocolates has finally transformed chocolate gelt into the treasure it is meant to be.  Give the kids the foil wrapped sacks and save these gold coins for yourself.  They are available in 3 flavors and certified Kosher by the CRC.  They are all molded to replicate an actual Judean coin dating back to the 4th decade BCE, and is finished in gold dust. They will also look gorgeous on your dessert table.  
Order your Veruca Chocolate gelt here.  
One more chocolate gelt that is a step above. These still have the foil covers, but they are high quality chocolate and they come in gold and silver.  Note the silver ones are mint flavored!! Get chocolate coins from Lake Champlain.
There was never a better time than now to learn to make your own gin.  With less going out and smaller gatherings, it's the perfect gift. 
There is something so comforting in a cup of a tea, when you gift a gorgeous box of tea your friend or loved one will think of you with every cup. 
We love this stainless Latke Spatula. Cute and practical at the same time.  Get it from Amazon.
Anyone would love to add these to their Hanukkah table.  Blue and white star chip resistant dinner set can be used for everything from salads, to appetizers to desserts.  Get it here or order your whole Hanukkah party set of disposable plates, cups, plasticware and napkins here. 
Move beyond those plastic Hanukkah cookie cutters to these hand crafted Jewish themed cookie cutter set perfect for Hanukkah.  Get the Hanukkah cookie cutters here.  
No more wax candle mess everywhere, use this tempered glass drip try and keep your counters clean. Get it here. 
The perfect hostess gift makes it easier for the host to serve the goodies.  Get this Hamsa serving plate here. 
Let us know if you find any other fun holiday gift ideas, share it in the comments below.