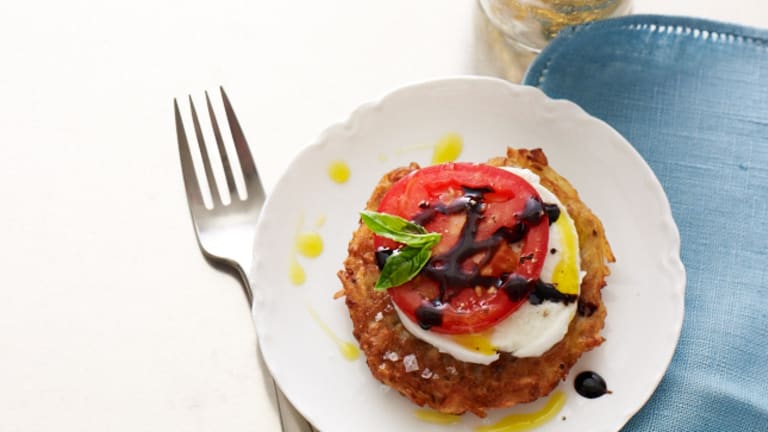 Have a Happy Chanukah and Enjoy These Latke Recipes and History!
Happy Chanukah!
Everyone at JamieGeller.com joins me in wishing you a Chag Chanukah Sameach! May your holiday be filled with light, happiness and delicious food!
Just for you, here's a bit of history and then some inspired latkes. 
The Jewish holiday of Chanukah or Hanukkah (which means "dedication" in Hebrew) celebrates the re-dedication of the Holy Temple in Jerusalem in 165 B.C.E. by the Maccabees, following a successful revolt against the Hellenist Syrians. Returning to the defiled Temple and facing the daunting task of restoring it to its former glory, the Jews found only enough pure oil to light the menorah for one day. Miraculously, the flame remained lit for eight days, just enough time to find more oil to maintain the fire.
While the historical and religious significance of Hanukkah are well-documented, the culinary history is less familiar. Until the Middle Ages, there is no mention of any specific Hanukkah foods. As the status of Hanukkah became elevated as a counterpoint to Christmas, Jews reclaimed the culinary roots of their holiday and treats such as sufagniyot (doughnuts) and potato latkes (potato pancakes) became an integral part of the Hanukkah tradition.
According to Jewish food historian Gil Marks, the original latkes were actually made from curd cheese. Over time, the combination of geography and poverty led European Jews to turn to the potato latke, frequently fried in schmaltz (rendered chicken fat) when olive oil was scarce, as a source of sustenance and symbolism.
I could happily eat traditional potato latkes for eight days and eight nights, following a recipe inspired by Joan Nathan, Traditional Potato Latkes, that always gets rave reviews. This year, I wanted to share eight recipes that are delightfully different and influenced by the cuisine of France, Italy, Japan, Spain, South America and American South. The recipes for Rosemary Mascarpone Potato Latkes and Cinnamon Apple Latkes were finalists in the "Best Latke Ever!" 
The recipes below are intended to spark your imagination. I generally start with a traditional latke recipe, and then experiment with mix-ins and toppings. My kids love to help and I can keep them away from the frying pan while they mix the toppings. Although apple sauce and sour cream are common condiments, try a Romesco sauce – a sweet red pepper pesto-like sauce popular in Spain. You can mix sour cream with zataar or add hummus and pine nuts to give your latkes a Middle Eastern flair. For a pizza-riffic appetizer, try a crispy latke topped with tomato sauce and mozzarella cheese – it is a fun treat kids and adults will fry for!
8 Inspiring Latke Recipes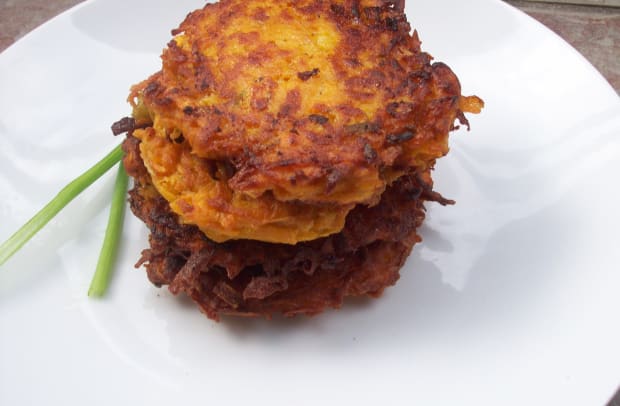 Just for you, here's a roundup of all our Chanukah treats:
Chanukah Candles, Cooking and Customs
Slick Tips for Cooking with Oil This Chanukah
Jamie's Eight Nights of Latkes - for another set of eight new latke recipes
Try my traditional Latke recipes: Latkes, Crispy Potato Latkes, and Mashed Potato Pancakes.
Some new recipes for your Chanukah Meals: Smoked Salmon and Goat Cheese Bruschetta, Butternut Squash and Sage Lasagna, Winter Citrus Salad, Roasted Brussels Sprouts with Herb Butter, and Apple Zeppole with Jelly Dipping Sauce.