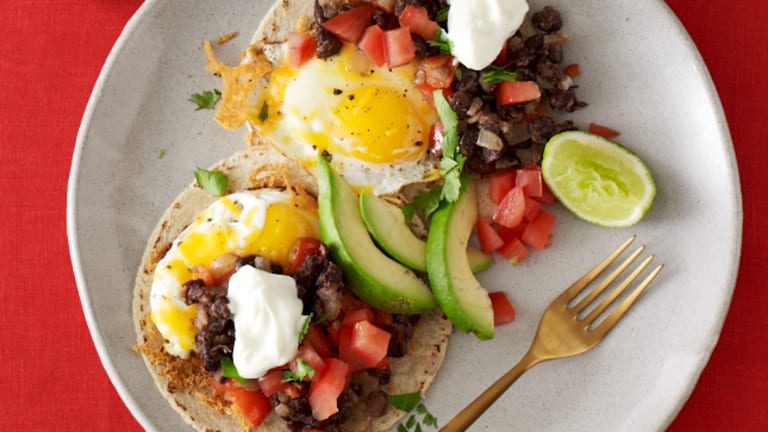 Healthy Breakfast In Bed Mother's Day Ideas
When I was growing up we were not big on all these Hallmark holidays and we certainly never bought any cards.  We did however always acknowledge my Mom on both Mother's Day and her birthday with breakfast in bed. 
I am not sure how the tradition started, but she always loved to sleep in and so we had the time to bring her a surprise.  The trick to a good breakfast in bed, is to keep it low on the crumb scale and I like to make sure to keep it healthy with a treat. 
Here are 3 suggestions for healthy breakfasts in bed for mom - feel free to forward to the men or children in your lives for some inspiration.
Get MOM the ultimate last minute gift, a subscription to our healthy meal plan, no more menus and list to plan, they are all provided with a shopping list every week. Sign up here. 
1. Mexican
This Mexican breakfast is easy to make and is filled with beans, tomatoes, avocado and eggs, everyone will love this flavorful meal. 
Serve a Mexican Iced Coffee for a treat, with spices and whipped cream and a don't forget the cinnamon stick, Mom will really love this sweet ending to her Mexican breakfast in bed. 
2. Israeli
Shakshuka is very popular these days for good reason, it is easy and delicious.  Serve with some pita to mop up all the sauce. 
This Israeli breakfast calls for a frozen limonana, maybe after the shakshuka you can bring Mom outside to sip and relax. 
3. Spa
If you don't want to cook or don't like eggs, make mom a yogurt parfait with her favorite toppings.  (I like tahini and silan, but you can find out what your mom likes)
WATERMELON POMEGRANATE GREEN TEA
Fresh fruit and herb flavored tea is the perfect spa drink to accompany the yogurt parfait.  
What are your Mother's Day traditions?