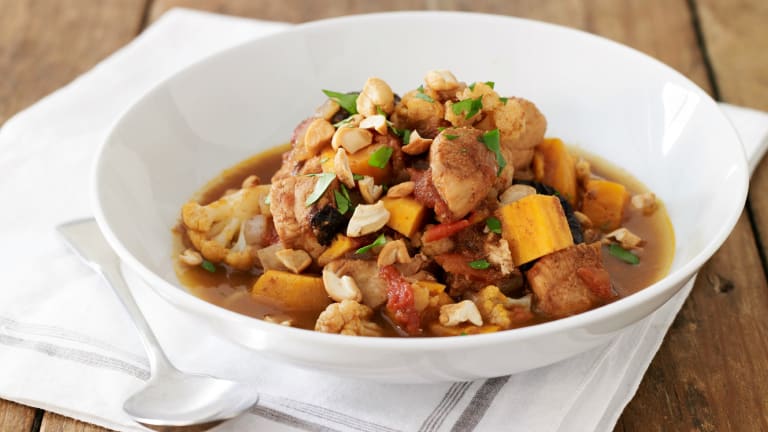 Healthy Holiday Survival Kit
Do you ever feel sluggish, cranky, and sick of eating by the end of the Sukkot holiday? 
It's like a marathon; cooking, cleaning, and entertaining — but without a training schedule! By the end of it all you feel like you are crawling past the finish line. 
Years ago I decided to stop dreading the long holidays and figure out an easy system to embrace every  JOYful moment of vacation. These simple strategies have transformed our family's experience of the long holiday as well as that of many of my clients. They will help balance your effort in terms of cleaning and cooking, and maximize your ability to enjoy quality time with your friends, and save money for trips during chol hamoed.
So here it is — the ultimate healthy holiday survival kit! Think of it as your get-in-shape-for-Sukkot marathon training.
Before the holiday
1. Evaluate your work and vacation schedule before you invite a single guest. Know what you have to work with in terms of time and budget before you over-commit.
2. Make a list of which meals you want to host. Regarding out-of-town guests, make a list of what dates they are arriving and departing. Then, if possible, schedule some cleaning help accordingly. The small hourly price you pay for help around the holidays is easily made up for in avoiding the retail therapy and over-buying we tend to do around the holidays.
MORE: More fabulous recipes to enjoy this Sukkot
3. Alternate between large and small meals on your menu. Balance your larger meals during the daytime, with simpler meals at night. A great soup, salad and main dish is a welcome break from the three course meal you had earlier in the day. Or flip it around and enjoy your larger meals in the evening and use your daytime meals to relax over light lunch.
Hosting Strategies
1. Leave a welcome note for your guests with a schedule of your usual family meal times, and what they can feel free to take from the fridge and pantry. 
2. Give your guests a heads up on your schedule. For example, let them know if you always take a nap in the middle of the day or tend to stay up all afternoon chatting and playing games. It will help them to manage their expectations, and makes for a more enjoyable experience for you both. 
3. Include a towel and water bottle for your guests so that they don't have to ask you for anything as you finish with last minute holiday preparations.
4. Share the work of cleaning up. Let people help you. Encourage your kids, family, and guests to take their plate in, and talk to them while you wash the dishes. The clean up will go much faster and everyone will feel much more at home.  
Tips for a Guest
1. Always bring a gift, such as a nice card or flowers, even if your family is not used to guests bringing gifts. 
2. Let your host know if you have any other obligations on your time, a test to study for, a family friend to see or if you just need a little extra rest. If you give this information up front with your gratitude for being invited, you manage her expectations and avoid awkward moments later, when they want to sit down to a game and you have other plans. 
3. Always inform your host, well in advance, of any special eating requirements, even if you are just on a diet. No one wants to make a rich menu only to find out you just started Weight Watchers and there is little you can eat.
MORE: How to set a gorgeous Sukkot table
4. Have something to say. It is wonderful to study the Torah portion for its own sake or just to be well rounded in current events, but when you are at a long holiday meal conversation is critical. Both sides should make an effort to have something interesting to say or discuss during the meal. I am always shocked at how much more I enjoy a long meal, when we had a great discussion at the table, versus how sick I feel after a long meal of just sitting and eating, no matter how delicious the food. The satisfaction of a connection with your guests is much more fulfilling then an extra side dish you could have made.
Plan in Advance
1. Freeze at least a few main dishes and soup when you cook for the first days of chag. This will take more of the pressure off chol hamoed. If Shabbat falls during chol hamoed you can defrost them and have a Shabbat meal ready by just adding a salad and side dish.
2. Decide how much you can afford to eat out over chol moed and plan accordingly. I also make great use of my crock pot so that when we are out all day we can come home to a warm healthy meal, like the Moroccan Chicken Stew (above). 
MORE: Try these delicious Sukkot recipes for a day out
3. Plan plenty of activities to keep everyone busy and avoid boredom. 
4. Make plenty of shehakol recipes just in case you get stuck without a Sukkah. Try this delicious easy Spinach and Bulgarit (or Feta) Quinoa Cashew Patties to take with you on day trips and enjoy a gluten-free treat that is a healthy and convenient choice for your travels.
5. Free up your evening plans to go to market or make one dish for the final day of the holiday. When you break up the work, you won't need more than an hour or two on the day of Hoshana Raba to finish off your preparations.
Want stories like this delivered straight to your inbox? Sign up now for the Joy of Kosher weekly newsletter.