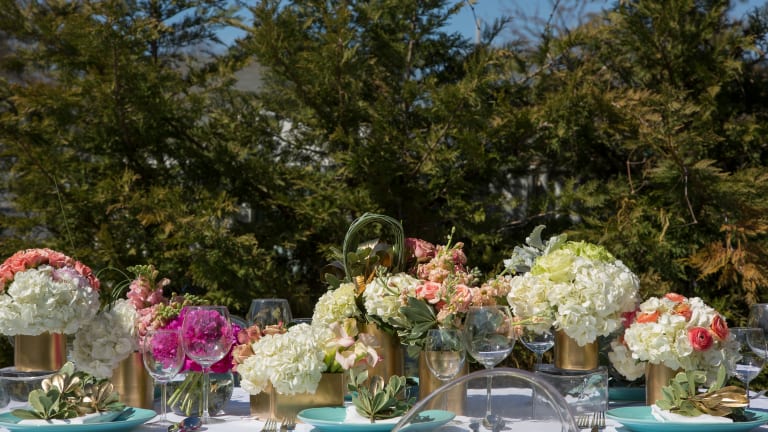 How to Create the Ultimate Shavuot Food & Wine Menu
Wine Guidance from the Experts
For this Shavuot holiday, we collaborated with Royal Wine Corp, the largest kosher wine distributors worldwide and sought guidance from wine expert Gabriel Geller to break down this season's must have wines. 
Gabriel has shared the latest white & rosé wines to hit the market, the distinct characteristics of each wine as well as the perfect food pairing. The food suggestions below are merely suggestions. Feel free to swap similar recipes based upon the ones shared below. 
The Festival Of The First Fruits, The Feast of The First Wines  
Shavuot is the holiday on which the Jewish People celebrate the gift of the Torah from G-d at the foot of Mount Sinai. Since the Torah was given on Shabbat, the Jewish people could not slaughter animals (in keeping with the rules of Shabbat) and as a result couldn't eat meat. To this day, it is customary to eat dairy meals or include a dairy menu (like Jamie's Easiest Shavuot Menu) in the Shavuot festivities.  
While the celebratory meals on Jewish holidays usually include and combine meat and wine, eating dairy on Shavuot does not mean wine should be left out. To the contrary, many wines can be paired and match fish and dairy dishes.
Shavuot also is the holiday of the first fruits. It was the day on which the Jews could bring to the Holy Temple in Jerusalem the first fruits harvested in their fields as offerings. The first wines to be released from last year's vintage are white and rosé wines. Those wines are fruity, refreshing and can accompany a wide array of dairy and fish delicacies.
ROSE + FRUIT & CHEESE   
  Take for instance the Elvi Vina Encina Rosado 2017. This Spanish rosé wine is made from Tempranillo grapes which provide a beautiful cherry pink color to the wine as well as a mouthful of fruits such as strawberries, raspberries and cantaloupe. Does it sound like a fruit salad? You bet! It would accompany fresh fruits or a fruit salad nicely but also soft cheeses such as goat cheese and mozzarella.  
  CHIANTI + SUN DRIED TOMATOES & MOZZARELLA
Mozzarella served with sun-dried tomatoes and basil as a Caprese Insalata or as a pizza topping would be wonderfully complemented by an earthy and slightly spicy red wine such as the Chianti Classico Riserva 2012 from Terra di Seta. This amazing wine has recently gathered some impressive 93 and 92 scores from the prestigious Wine Spectator and Decanter magazines! It boasts aromas and flavors of ripe cherries, baking spices, Mediterranean herbs as well as a juicy texture.  
RIESLING + SHARP CHEDDAR
Hagafen winery in Napa Valley makes three different types of Riesling: a dry one, a semi-sweet, and an off-dry version. My favorite of the three is the Dry Riesling 2016. One of the things I love about Riesling is its versatility with food. With its core acidity as well as with its green apple and lime aromas, it can be sublime with a full-flavored cheese such as an aged, sharp cheddar as much as it can cut through the savory flavors of a veal chop Milanese.  
CHARDONNAY + BRIE
  The new Chardonnay 2016 from Herzog in its Lineage series is also well-worthy of consideration. While its compatibility with Chicken Paillard is undeniable, it will take a simple toast topped with Brie cheese to the next level. Medium-bodied with light, creamy notes of butter and sour cream, it showcases fresh tropical fruit aromas, as well.  
FRENCH CHARDONNAY + CHEESE PLATTER
Domaine Les Marronniers Chablis 2016 is also a Chardonnay but one would not guess that so easily. The style of the wines from Burgundy's Chablis appellation in France are much leaner and more mineral than many of their rich, buttery California counterparts. Here is a light yet complex wine with notes of lemon pith, fresh almonds and pears.
HERZOG LATE HARVEST + CHEESECAKE
Last but not least, dessert. The Herzog Late Harvest Chenin Blanc 2016 which is already delicious on its own would be even more delicious with a piece of classic New York Cheesecake. The pleasant sweetness together with the classic aromas of peach, apricot, table grapes and orange zest will upgrade your Shavuot dessert more than you could ever imagine!  
Chag Sameach! L'chaim!