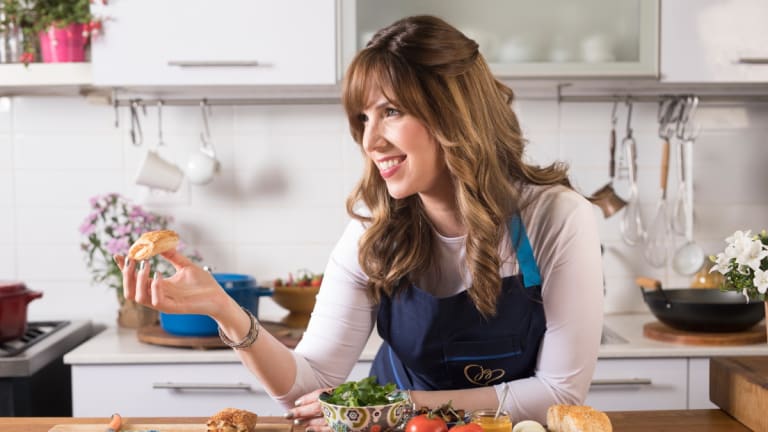 How to Cut Calories on Chanukah
With all the fried food, Chanukah is hardly the dieter's dream holiday (honestly, what Jewish holiday is?).  But, tongue firmly in cheek, here are 8 ways to keep your Chanukah calorie count down.  (I promise to do these all next year. No, really ...)
1. Eat latkes over the sink. Everyone knows calories consumed over a sink don't count.
2. Reuse frying oil as bio-fuel. You don't really save any calories but you will help save the planet.
3. Just suck the jelly out of the doughnuts.
4. Choose apple sauce over sour cream (who are we kidding, really?).
5. Have diet soda with your latkes.
6. Eat no more than 3 sufganiot (again, who are we kidding?).
7. Only eat the small coins of chocolate gelt.
8. Deep fried salad!
That's what I do, now let's hear from Tamar, our Registered Dietitian on how to REALLY cut calories on Chanukah. 
First, I want to talk about frying, like I preach on our Fresh Families healthy meal plan, frying is not off-limits. 
Well, the truth is, frying isn't necessarily bad, just like everything else there is good frying and there is bad frying, if you use a good healthy oil, like olive oil and fry up healthy veggies, I'm all for it.
The worst type of fried food mostly comes from restaurants, where the most common foods are battered and then fried and the oil used is not the healthiest. So keep your frying at home, where you can control the type of oil and the type of food, I like spinach latkes the best to get the most nutritional bang for the buck.
Still, frying in oil does add fat and calories even when making them at home, so you do want to be mindful of portion sizes this Hanukkah season.  I like to choose some of my favorite vegetable-based latkes and enjoy them fried to celebrate one night, the rest of the time I go for baked.  
What about Doughnuts? 
Doughnuts are trickier, not only are they usually fried, but they are also loaded with sugar.  My best suggestion is donut holes, really savor and enjoy one to celebrate the holiday, it's all about portion control.  Of course, you can try my 5-ingredient blender doughnuts and while they are good, I know they are not the fried doughnuts of your dreams.  
And what about all those parties? 
Parties during the holidays can really take their toll.  Self-control is so much harder when you're presented with lots of your favorite unhealthy foods and everyone is enjoying them.  If you want to cut calories this Hanukkah you have to prepare.  Make sure to eat healthy foods before the party so you can just nibble on a few favorite goodies when you are there. If possible, bring a healthier lower calorie food that you know you can enjoy and if you're hosting a party, get all our healthy, lower-calorie recipes when you join Fresh Families.  We have weekly menus and shopping lists and over 300 recipes to help you plan and prepare for a healthy life. 
Happy Hanukkah.