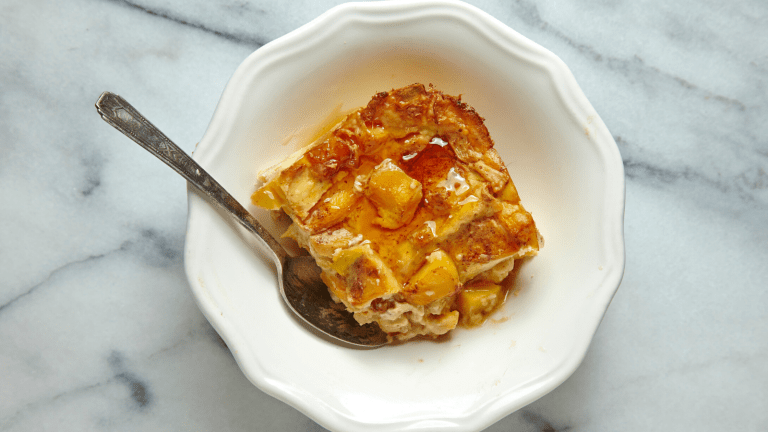 How To Make The Perfect Matzo Brei Plus Variations
Matzo Brei is a traditional Jewish dish served on Passover made of matzo mixed with eggs. Along with Matzo Pizza, it is probably one of the most popular and nostalgic Passover foods. 

My grandmother was known for her matzo brei, Pesach's answer to French toast.  Hers was perfectly executed in her frying pan, its deliciously crisp crust leaving no suggestion of greasiness on the lips. Hers was of the whole, unbroken, oversized pancake variety—I guess that's how they did it in Galicia. 
Truly, the woman had a gift for frying and knowing how to season well. Grandma had no recipe, rather a formula and technique for no-fail matzo brei-making with only the simplest of ingredients: matzah, eggs, salt, and pepper...and lots of oil to fry. 
When I started making the dish, I introduced the addition of cinnamon. She told me I was being "fancy." Dipped in cinnamon-sugar or with a smear of jam, there is still no other breakfast I'd rather have on Pesach. 
Now you can make matzo brei just like my Grandma, get her recipe for a basic traditional matzo brei - THE FORMULA AND TECHNIQUEE. 
Now that you know the basics it's time to have some fun.
There are so many matzo brei recipes out there that choosing one can be overwhelming. One favorite is Jamie's make-ahead Banana and Peach Matzo Brie Bake.
If you want to wake up to a simple breakfast or serve this for a fun brunch this recipe can feed many without standing over a stove. 
SOUTHWESTERN STUFFED MATZO BREI 
Hidden within what looks like your classic matzo brei is an oozy cheddar filling studded with sautéed peppers and onions. Serve with sour cream on the side.   
The ultimate comfort food! Over Passover, if you're a Mac 'N Cheese kind of person you may be craving your favorite dish, but this recipe will allow you to have your fill without skipping a Passover beat.
 A cuter, lighter, baked version of the fried classic for a lovely serving presentation. Fill with your choice of toppings.
Another twist of two classic Jewish recipes into one gratifying recipe. Serve this version any time of day. 
Tastes as delicious as it looks. You can easily double or even quadruple the recipe and, believe me, you will probably be doing just that.
Matzo Brei 4 Ways
Watch how we make 4 different versions of Brei in this video. From Classic Sweet Matzo Brei to our Pizza Brei where the matzo brei is used as your pizza crust.  Then mix it up some more with either savory or sweet combos of Mushrooms and Onion Brei or Cinnamon Apple Brei.  
What is your favorite way to Brei?