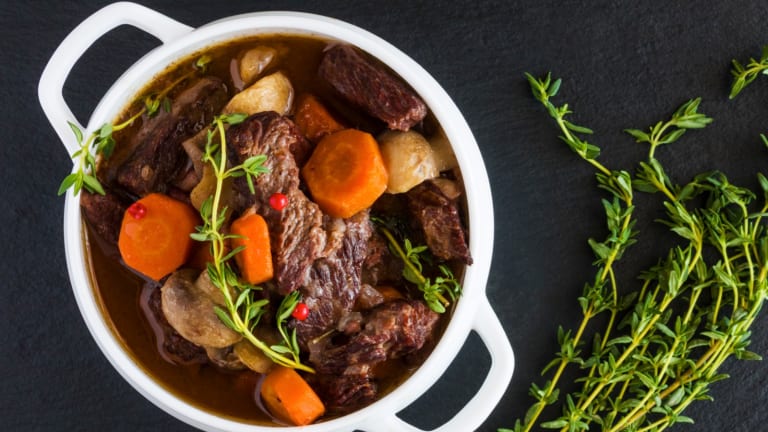 How To Turn Any Stew Into a Shabbat Cholent
Can I make this for Shabbat like a cholent?
This is one of the most common questions we get about any soup or stew and the answer is yes, but...
Here is our guide on how to turn your soup or stew recipes into a 20hr slow-cooking masterpiece.
There's a reason we love cholent on shabbat, especially in the winter: it's filling, hearty, warm -- and we barely had to lift a finger. When shabbat starts early on Friday, finding recipes that can be assembled quickly and cooked slowly is key. 
But can any soup or stew recipe be made in a slow cooker and served like cholent?
Almost, but not all. Here are the things to look for, avoid or adapt in recipes. 
1. Avoid lean meats -- they'll end up dry and stringy. Flanken Ends, Short Ribs, Marrow Bones and Stew Meat are all nicely marbled cuts that do very well when cooked slowly, as are Chicken Thighs and Drumsticks, but not chicken breasts. 

2. No last-minute cooking. Any recipe that wants to you to add tender veg like spinach, chard, asparagus or snap peas towards the end is a no-go. Stick to recipes that use hearty ingredients like root vegetables, squash or brassica greens (cabbage & kale) that get sweet when they are really, really cooked. But keep in mind that you can lighten up the flavor by adding a (raw) gremolata after serving (pass it around and let people add to their plate): chopped herbs, garlic and lemon zest will definitely add some pop to a slow-cooked meal.

3. Avoid pasta -- it'll get mushy.

4. Adjust for evaporation. If your recipe asks you to deglaze with wine, and instead you just add that to the liquid, your soup will be too watery and taste sour, since the alcohol won't have a chance to fully evaporate. (If you have time, go ahead and sear/deglaze before adding the rest of the ingredients and setting the slow cooker to low). In general, reduce the liquid by about 2/3 to 1/2 of the called for amount, since there is very little liquid lost during the cooking process.

5. Check your equipment. If you're a regular cholent maker, we're assuming you have a slow-cooker set up that works for you. If this is new, make sure you're using a device that will actually get warm enough to cook your food. No watery broth and crunchy lentils come Saturday, please! The Instant Pot's LOW "slow cook" setting is notorious for not really getting hot enough to cook food -- check your device and make sure it is up to the task.
Here are 18 soups and stews that can be adapted to be cooked like a cholent. 
15 Stews and Soups You Can Cook Like Cholent