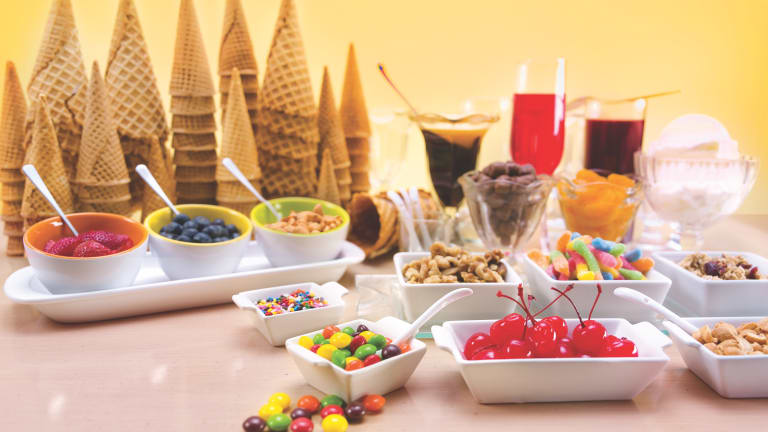 Celebrate Shavuot on a Budget - 5 Ways to Save
Shavuot meals lend themselves to laid-back entertaining. The holiday is a great opportunity to having guests without fear of busting your budget.  
After Passover, Shavuot, a much easier holiday, is a welcome change.  Instead of long seders and heavy meat meals, Shavuot's simplicity (as in not having to make the house chametz-free) and dairy food are reason enough to rejoice.  The fact that we are celebrating the giving of the Torah is an added bonus!
Here are five ways you can pull off show-stopping Shavuot meals without stretching your wallet:
1. Make it Italian - Pasta Bar
Bring out your checkered tablecloth and best bottle of sparkling wine as you present your guests with an Italian-inspired pasta and salad bar.  After all, what entrée is cheaper than a box of pasta?
Ahead of time, cook a few boxes of noodles in different shapes and heat two or three different pastas sauces (they don't have to be homemade) such as marinara, Alfredo or Arrabbiata.  Adorn the pasta buffet with shakers of grated kosher Parmesan cheese, garlic salt, and Italian herbs and small bowls of roasted vegetables, sun-dried tomatoes and olives.
Adjoining the pasta buffet, fashion your salad bar beginning with a large serving bowl filled with ready-to-eat lettuce, surrounded by small bowls of cut vegetables, nuts, and croutons, and a cruet (or two) of salad dressing. Use our Build Your Own Salad to guide you. 
Super Saver Tip
To circumvent excess leftovers which often accompany a buffet, serve a home-style meal. Serving a big bowl of pasta or lasagna, a large Greek or Caesar salad, and tray of garlic bread to the table will surely win over your guests.
2. Make it a Brunch
Why save brunch for Sunday mornings?  Shavuot is a wonderful opportunity to bring out low-cost fare like bagels and eggs.  To up the ante, offer made-to-order omelets and blintzes. Give guests the choice of omelet fillings like mushrooms, diced peppers, or cheese and spinach.  Use two frying pans so you can make two omelets at a time so guests won't wait too long for their entrée.
For blintzes, prepare cheese and potato blintzes ahead of time, but fry them on demand, with various fruit sauces and sour cream as condiments.
Super Saver Tip
Leftover bread doubles as a tasty brunch entrée.  A few weeks before the holiday, freeze leftover bread and then take it out of the freezer to make a bread casserole; strata, panzanella, an Italian bread salad; or French toast fingers.
3. Cheese and Wine Tasting
To maintain the light and seasonal atmosphere of a Shavuot meal, present your guests with an entrée of quiche, paired with a gorgeous fruit and cheese platter.  Instead of purchasing a pre-made platter, buy whole fruit and blocks of three or four different cheeses.  Slice the fruit and cheese yourself and artfully display them on your prettiest serving tray.
If you are considering serving multi-grain crackers and cream cheese, make your own flavored cheese spreads.  Simply mix cream cheese with a teaspoon or two of milk with additional flavorings like fruit purees, roasted garlic and scallions, and lemon zest and herbs.
Super Saver Tip
If your guests suggest bringing a bottle of wine, take them up on the offer; it will be a perfect accompaniment for the cheese.
4. Cheesecake Social
Instead of inviting guests for a Shavuot luncheon or dinner, host a cheesecake social in the afternoon.
Cheesecake can get expensive so instead of making a bunch of cakes, make one or two batches and divide the batter amongst mini muffin pans or mini tart tins.  Adorn with fruit and candy and you'll be amazed at how far this trick will stretch a simple batter of cheesecake.
Super Saver Tip:
To simplify preparations even more, prepare "no-bake" cheesecakes.  Place vanilla wafers in the bottom of mini muffin tins.  Top with a blend of whipped cream cheese, sugar and vanilla, and a dollop of fruit preserves or fresh berries.  Refrigerate until serving.
5. I Scream for Ice Cream!
Make-your-own-sundaes will be a delight for kids of all ages.  Throw a Shavuot bash where guests create their own icy delights.  Present your company with ice cream in different flavors, bowls of toppings and whipped cream.
Who doesn't love a holiday when you can make your own sundaes?!
Super Saver Tip
Look for "By One Get One Free" deals for ice cream.  This is the perfect time to use those sales to their advantage.