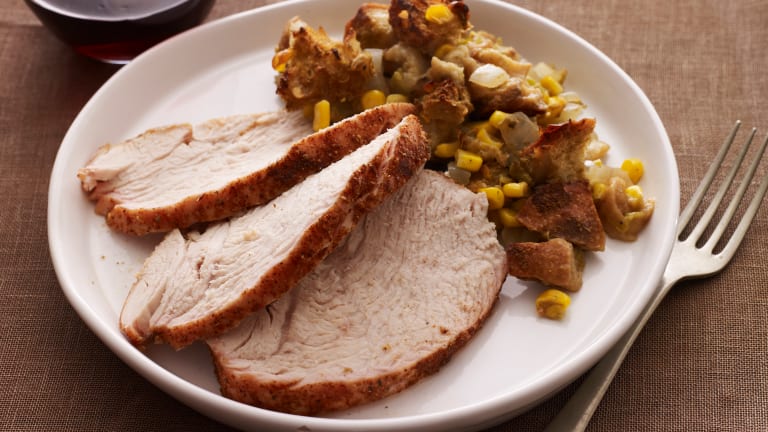 Hubby Picked The Shavuot Menu
We usually have meat for some of the Shavuot meals, although I love dairy so this meat menu was picked by hubby.
Over the years I have put together so many menus for you.  After multiple menus for every holiday, it's kinda (super) hard to keep creative.  Truth is after 8 menus I started having menu block.   Menu block looks like this:  After developing and testing over 200 recipes in under 10 weeks for my 3rd book (my skirt tooooo tight to button), looking into the book is like looking into your closet (busting with shmatas clothes) and screaming feeling like you have NOTHING to wear!!!
Tamar rescued me like the greatest friend and expert menu planner that she is (who do you think comes up with our awesome weekly Shabbat Menus?) and put together the book menus.
Blocked once again I decided to employ the help of another special person.  I volunteered a friendly civilian you all know and love for this year's Shavuos menu.  Instead of giving you yet another female skewed, goat cheese filled, smorgasbord of holiday recipes I asked Hubby what he wanted to eat.  This way I not only have a fresh and fancy new menu for you but save myself the time and trouble of doing this all over again for the real-life version of the holiday.  So here is the menu courtesy of Hubby with the what, when and why of his selections in his own words.
JG: Tell me why you picked this menu.
H: These are just the things I want to eat.
Appetizer: Short Rib Sliders
H: Sandwiches are my favorite food.
JG: Tell me more.
H: You make it sound like I bought a home.  It's just a menu, I picked what I like - after that it's all kinda fuzzy.
JG:  I am writing this all down.
H:  OK so… we love ribs.  It's the one thing EVERYONE in this family eats.  And I love sandwiches, which is the first thing I said.
JG: Good.
H:  If you can put it on bread I will eat it.
JG: Good, next.
Main: Southwestern Turkey Breast with Green Chili Stuffing
JG: Talk to me.
H: I've got nothing.
JG: (Eye roll)
H: I can see you rolling your eyes.  There is too much build-up to this interview already.  Just make something up – you know, artistic license and all.
JG: Come on!
H: I love turkey – it was my birthday meal growing up.
Main: BBQ Meatloaf
H: I just really thought it would go good with the turkey.
Side: Sweet Potato Carrot Bake
H: I like this dish – cause it's light – with the other heavy food I thought this was a nice side, and cause my wife doesn't like making plain veg.
JG: I don't.
H: I really just want steamed broccoli.
Side: Caramelized Onion Mash
H: I have turkey, stuffing, meatloaf, gotta have some taters man.
Dessert: Deconstructed Apple Pie
JG: You never eat the apple pie.
H: I do on Thanksgiving.
JG: This is not Thanksgiving this is Shavuos.
H: I know.
JG: So are you going to eat the apple pie?
H: Well I started with the turkey thing – that's how it all started – that's the inspiration.
JG: Thanks for clarifying.
H: And I eat your puff pastry apple purses.
JG: You're right.  Okay so we are done.  That's it; the interview is over, after trying to pin you down for a full week.
H: Ohmigosh you could have done that yourself.
JG:  Wouldn't have been authentic.
H:  Mark the date people, this is my last interview.
As a bonus for those of you that have my book JOY of KOSHER Fast, Fresh Family Recipes Hubby put together this mini Shavuot menu, but neither he nor his people could be reached for comment.
Crystal Clear Chicken Soup with Julienne Veg and Angel Hair p.25
Garlic Meatball Heroes with Arugula and Roasted Peppers p.186
Pretzel Crusted Chicken Skewers with Herb Curry Mustard p.161
Colorful Mustard Green Beans p.106
Cherry Bourbon Hand Pies p.28
What do you all think of Hubby's menus?