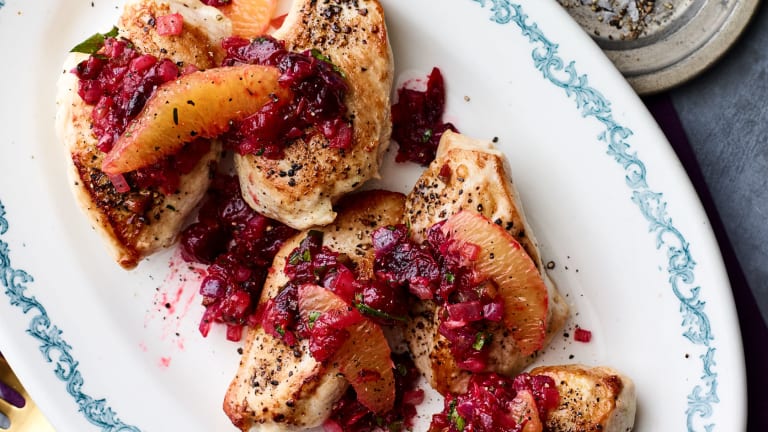 In Season: 5 Fresh Takes on Cranberries
Tart and fruity, fresh cranberries work well in both sweet and savory recipes. But there's a reason to love them for more than just their taste--fresh cranberries are a fall superfood, providing a good source of vitamins and plenty of antioxidants.
And while Thanksgiving is all about cranberry sauce, it's time to put fresh cranberries back into the spotlight. That's why we created five new recipes that celebrate cranberries all season long. So grab a bag of berries and get seasonal with these fresh takes.
A quick, easy and fruity breakfast the whole family will enjoy. If you have a high-speed blender, use the whole tangerine, peel and all.
Cranberries give this applesauce it's beautiful, scarlet color. Serve it along with your Chanukah latkes or enjoy as a snack on its own.
You'll be the talk of the party when you bring along the ultimate DIY hostess gift: Cranberry Vodka. But get started early, it takes a little time to coax cranberry flavor into this infused spirit.
Now that you have your homemade flavored vodka, you need a go-to cocktail. Cranberry vodka + sparkling Prosecco make the perfect fall/winter drink.
Sautéed chicken gets an upgrade with a tart-tangy-spicy salsa topping. To save time, make the salsa a couple of days in advance, then sauté the chicken and serve.
Now, which cranberry recipe are you ready to try?
Want stories like this delivered right to your inbox? Sign up now for our *free* JOY of KOSHER Newsletter.