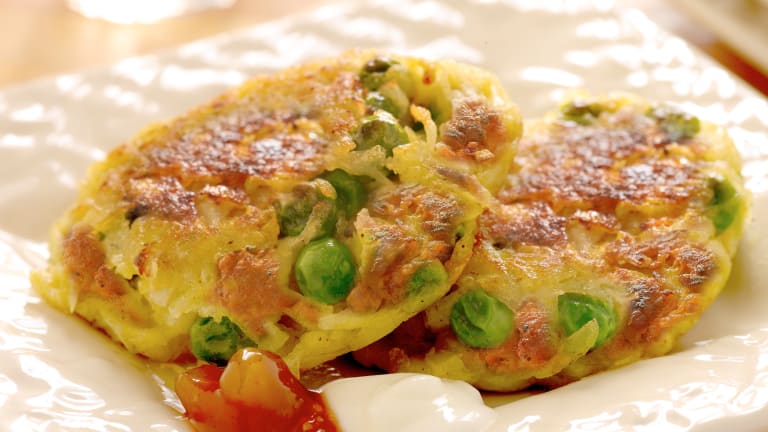 Indian Recipes That will Spice up Your Chanukah Menu
Not gonna lie, my favorite Chanukah feast features my grandfather's a"h Classic Latkes  loaded with sour CREAM and oodles of noodles:, CREAMY Dreamy Pink Linguine, CREAMY Spinach Fettuccine Alfredo, CREAMY Baked Ziti. I can't say Chanukah is a dieter's dream holiday with all the carbs and cream and Sufganiot but on at least one of the 8 nights I always make an effort to enhance the health factor of my holiday fare. 
Wishing you the happiest, brightest, lite-est Chanukah EVER!
BOMBAY SALMON WITH JASMINE RICE
For the main let's pass on the pasta (just for one night) in favor of Bombay Salmon spiced with garlic, ginger, curry, cinnamon, cardamom, turmeric, cloves and coconut milk.  
MORE: Shabbat in India
MANGO CARDAMOM SHORTCAKES WITH GINGER WHIPPED CREAM
For dessert, Mango Cardamom Shortcakes with Ginger Whipped Cream, cause: #1 they go so well with the meal, and #2 if I'm behaving I'll eat just the mango. If I'm feeling naughty I'll go ahead and take two… with extra CREAM please!  
MORE: Chanukah Desserts
My exotic Samosa Latkes have peas (that's a green veggie, people!) and if made with sweet potatoes they'll have extra fiber and vitamin A and fewer calories and carbs.  
MORE: Dairy Kosher Indian Recipes
I grew up on sweet and sour Ashkenazi cucumber salad and love this twisty Persian rendition.  
MORE: Let's Have a Chanukah Party!
Recipes Courtesy of Quick & Kosher: Meals in Minutes by Jamie Geller (Feldheim 2010)  
Want stories like this delivered right to your inbox? Sign up now for our *free* Jamie Geller Newsletter.