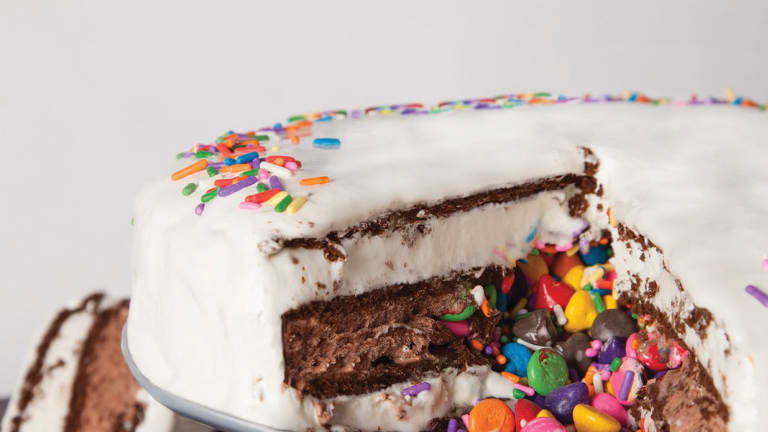 Simply Irresistable Purim Treats
In honor of Purim, we share with you some of our favorite desserts. Jamie Geller's chocolate bark makes the perfect mishloach manot gift, and her cherry bourbon hand pies are stuffed pockets of goodness. Einat Admony shares a gourmet take on the nostalgic Israeli treat: krembo. Finally, you won't believe the yummy treats hidden inside Shifra Klein's Ice Cream Surprise Cake!
MORE: Make Your Own Chocolate Truffles
These Cherry Bourbon Hand Pies are so sweet and tart, and easy to make with frozen puff pastry.  
MORE: Pralines for Purim
SALTED ALMOND AND PISTACHIO BARK
These Salted Almond and Pistachio Bark are so easy to make, and are perfect when you need to make a quick (chocolate) dessert! They also make a great gift inside mishloach manot.    
MORE: 10 Mishloach Manot Ideas
This is my version of the Krembo, a classic Israeli childhood snack. As kids, we'd get a box of twenty-four Krembos with a cookie base. We'd start eating away, and smearing these chocolate-covered marshmallow treats onto one another's faces. There are different ways to eat a krembo—some devour the entire chocolate shell first; others hollow out the chocolate by sucking out the creamy inside. I think the best way is on your own, without sharing. You can find them in supermarkets all over Israel, but they taste even better when homemade. If you're short on time (and long on children), you can use store-bought cookies as your base instead of making your own.  
MORE: Create the Perfect Purim Gift Basket
Using ice cream sandwiches allows for an easy way to make a layered ice cream cake. The candies in the middle of the cake will delight and amaze all of your guests, making it the perfect Purim or party cake. Can be made pareve or dairy.   
MORE: 10 Candy Recipes for Purim
DARK CHOCOLATE PEANUT BUTTER PIE
Mayim's friend Joey told her about this Dark Chocolate Peanut Butter Pie recipe, and it has become a standard in her house and in the homes of everyone she has passed it on to. It's simple to make and tastes like a professional peanut butter cup.Top it with sliced bananas, decorate it with vegan whipped cream, or just eat it straight out of the pie dish. However you enjoy it, you will see why we just can't get enough of this pie.  
Recipes originally published in JOY of KOSHER with Jamie Geller Magazine Purim 2014 SUBSCRIBE NOW
Want stories like this delivered right to your inbox? Sign up now for our *free* JOY of KOSHER Newsletter.