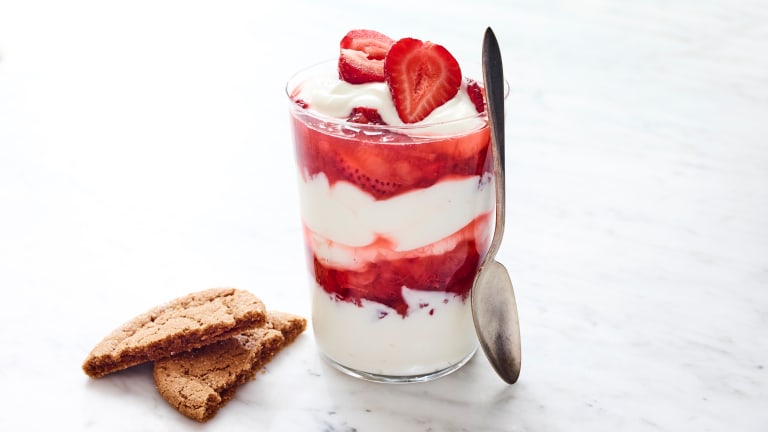 1 Hour Shavuot Dinner Menu With Game Plan
My life has only gotten busier over the years. It's not gotten easier to manage and I still haven't learned to juggle (I'm pretty sure I'll never figure out how unless I run away to the circus). With all of life's pushes and pulls in every which direction I shied away from entertaining for a while, cause I felt I just couldn't manage it with my hectic schedule. And it's not just my schedule, it's the tremendous pressure I feel to put out a spread the likes of which folks have never before seen. Even though I never claimed to be anything more than what I am, a quick cook that just happens to live next door -- nobody paid attention to the details, and were all too happy to score an invite to a "chef's" house.
Between over the top menus brimming with over the top recipes I felt I just couldn't live up to the expectation. But this was no way to live. Leading a jewish life, means sharing Shabbos and holidays with your friends and family. A closed door policy is totally antithetical to jewish values. As usual hubby talked me down off the ledge and insisted I pair down my menus and the amount of food I prepare. (Through tears) I agreed.
We have since started our Shabbat- and Holiday-in-1-Hour series as a way for you to do the same. Simplify the number of dishes, maximize the WOW factor with interesting flavor profiles and "chef-like" recipes and get it all done in 1 hour with our new GAME PLAN. I guess I did figure out how to juggle after all. 
Now you'll cook, like I cook, and all will again be right with the world. It has to be, when you have an open door policy to a dinner like this...
Enjoy Shavuot with this refreshing, summer menu.
Here's the GAME PLAN:
1. Make the poaching liquid (the poaching liquid can be parked on the back burner while you move ahead with the menu).
2. Make the rhubarb and cool it down.
3. Make sauce for sesame noodle salad.
4. Cook noodles and toss with sauce. Chill noodles.
5. Assemble parfaits and refrigerate. 
6. Bring fish poaching liquid to a simmer and cut vegetables for fish entrée.
7. Poach fish.
8. Serve dinner!
This gluten-free noodle dish is the best first course when you have lots of kids over. Let them fill up on this first course of noodles and you won't even need to call them back from play time.
Spicy fish, chicken and vegetables cooked with spices and chilies are called "Angry" in Asian cuisines. Is the fish really Angry? Who knows, but I am pretty sure you will be happy when you taste it.
Want creamy, flavorful fish and veggies in a snap? Try poaching your next fish and vegetables in spiced coconut milk. Somewhere between exotic chowder and stew lives this recipe. Feel free to use salmon for this recipe, but halibut is a nice change of pace. If you cannot find lemongrass, though I urge you to try, you can substitute the zest of 1 lemon and lime.
It is the season to give rhubarb a chance — try it out in this quick dessert. Your kids can even help layer before serving.