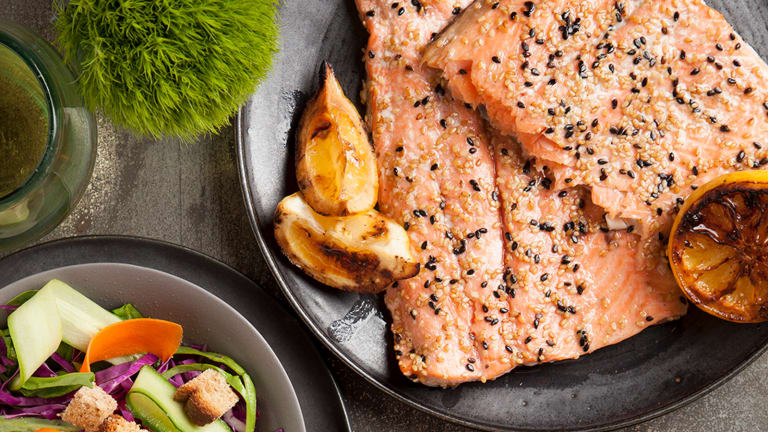 Jamie's May Shabbat Menu
This week I made a monster batch of my Potato Kugel to freeze (I shared it in instagram stories, if you're not following you should be) so when things get crazy I can "shop" out of my freezer and have my fam's fave sides for Shabbos. 
But a family can't live on Potato Kugel alone (believe me, I tried!), so here's my Shabbos menu for the first week of May.
I tested this recipe on my family the night my mom arrived from Philly for her annual Israel summer visit. Two ladies and five kids ka"h polished off this 2 pound side of salmon in a blink. Any recipe that has my kids eating and loving heart-healthy fish is a year- round winner.
Here is my now famous traditional challah recipe. Watch me make this challah dough and show you how to shape it in my challah video series.
Made just like a cold sesame noodle salad, the dressing has Tahini in it instead of peanut butter. Julienne the carrots and let them sit in the dressing for a couple of hours to soften a bit.
ROASTED CHICKEN SPRING ONIONS AND MUSHROOMS
Who doesn't love a dinner that cooks in a sheet pan? I'm using sweet potatoes, onions and mushrooms here, but you can sub with your fave veg and it will totally work!
I can't not let a Shabbos go by without making Potato Kugel. You can make it in cups for individual portions or in a pan if you're feeding a crowd.
If you only know one thing about me it's that I love avocados, extra virgin olive oil and Hubby, but not necessarily in that order.
I recently made this sauce on a Facebook Live and so many of you asked for the recipe, I finally wrote it down so I can share it with you. It is so good with salmon, but you can serve it with chicken or veg too.
I joke that this cholent is almost more famous than me. (Almost) But it was featured in the New York Times and this video has over 150,000 views, so it is pretty popular.
Dessert is always something I made in huge batches and froze like these cookies or cupcakes.
Now...what are you making for Shabbos?