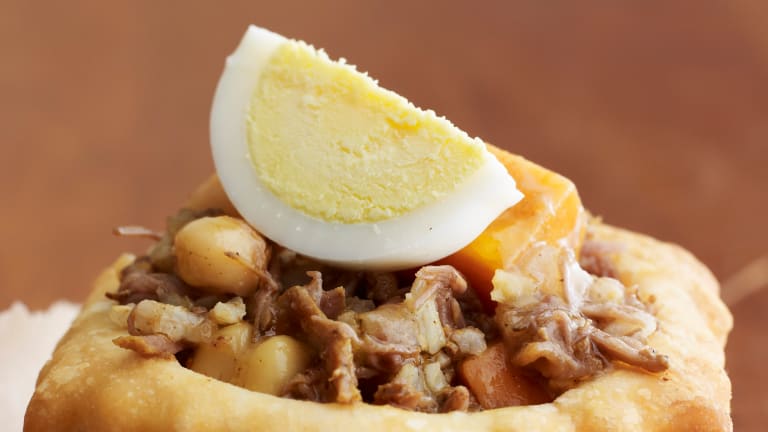 Jewish Comfort Food: Chulent Re-Make
Hubby is a shy guy.  Actually, let me restate: Hubby is not a spotlight/limelight kinda dude, more the behind-the-scenes type.  He calls himself the idea man.  And we all laugh about it.  Cause most things that I end up doing are his idea - like writing my first cookbook, making Aliyah and most everything in between.
But he is really really, really, really, funny.  Like crazy funny.  The kids always comment about how much we laugh together and how much fun we have.  We cook together, we clean together (although he would argue he does much of that on his own), we shop together, (except, again, when he is doing that all by his lonesome with a crazy long list from me) and we generally travel as a pair.
Since "my" famous Cholent which has been published in the New York Times is actually "his" I thought that when it came time to make the video he should be the one in front of the camera.  Well it took me years to convince him cause like I said, he hates the limelight.  But it does tickle him that 293,032 people have watched his video to-date.
People comment, and stop us, and tell us all the time how we have changed their Shabbos and their lives with "our" cholent.  Shows you the power of Jewish comfort food my friends.
Well, guess what?!  That cholent which we made exclusively and almost religiously for 10 years has now been replaced by a new "healthier" cholent!!!!!  
With chicken instead of flanken, brown rice instead of barley, sweet potatoes instead of white potatoes, low sodium chicken broth instead of soup powder, eggs instead of kishka, chickpeas instead of kidney beans and lots of onions and garlic.  Featuring spices like turmeric, cumin, cayenne, cinnamon and allspice you can say this Somewhat Sephardic Cholent is a distant cousin to the absolutely Ashkenazi cholent we are known for.
I actually serve it on a large oblong platter with the chicken legs laid out on top of the "mush" and sprinkled with fresh parsley.
or... You can dress it up!
Here you can see the "dressed up" serving suggestion perfect for a fancier Shabbos – think Shabbos sheva brachos – or simply if you like to patchke.  Serve your chicken cholent in a puff pastry basket.  Now it's elegant. 
Try this cholent and let me know how it turns out. I am so super curious to see how you think it stands up to Hubby's cholent.