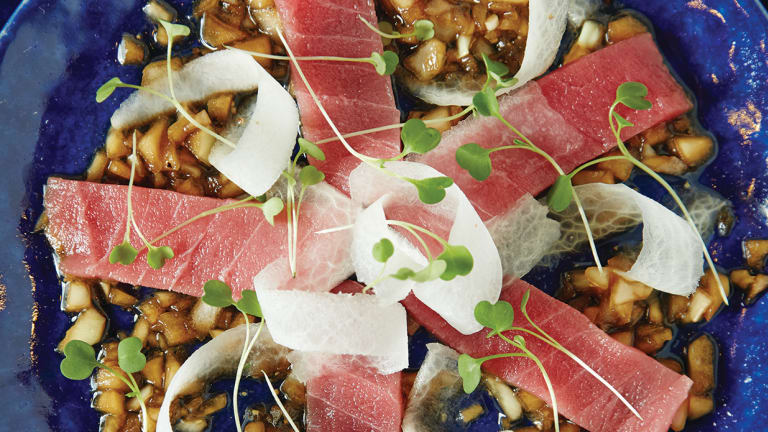 3 Days Until Passover: Quick and Easy Shabbat Lunch
I don't always have hours to spend in the kitchen creating the gourmet dishes I dream of all week for Shabbos, so sometimes I have to compromise with myself on my Shabbos menu. One thing that I never compromise on, however, is serving up interesting, fresh, modern dishes. So I have a bunch of dishes that I can prep on Shabbos itself, with some minimal erev Shabbos prep involved. The Shabbat before Pesach is the perfect time to execute these dishes.
Some of these recipes have chametz or kitniyot, so pick and choose based on where you are at this week. 
FISH COURSE:
Fresh & Raw: SASHIMI SALAD
I buy frozen sushi grade tuna and right before Shabbos, place it in the fridge to defrost. If I have time erev Shabbos I'll make the dressing, but if not it literally comes together in five minutes. To amp of the presentation, I lay thinly sliced radishes on a platter, place the sliced tuna on top, pour the dressing over it and top with beautiful radish sprouts.
Tips: if you are serving this dish to a crowd who balks at the idea of sushi or raw fish (like my entire family does), I would recommend searing the tuna, before Shabbos (takes ten minutes) and following the recipe as stated.
Sushi Bar Classic: Kani: MOCK CRAB SALAD WRAPS
Kani is essentially cooked white fish made to look and taste like non-kosher crab sticks. It is a great fish item that is best served cold and on weeks where all I have time to do is make a roll of gefilte fish, but still have a crowd to feed, I always rely on kani to act as the second protein during my first course meal.
I love Jamie's salad wraps and only add the roasted tomato if I have time. If not, sundried tomato in oil works as a great substitute.
Tip: save this recipe for Pesach as well. Kani is kosher for Passover and this recipe is great as a chol hamoed lunch on the go.
You can also skip the wrap part and serve as a salad.
Lox 2.0: SMOKED SALMON TARTARE
Jamie just posted a fun take on smoked salmon which I will definitely be making. Another fun option with lox or smoked salmon is creating an elegant platter. This is one of the most popular dishes I serve. Simply lay thin layers of lox on plate, surround on one side with bagel chips or crackers (or matzo) and on the other, small bowls of condiments like dairy-free cream cheese, capers, pickled onions and cucumbers and fresh dill.
MEAT COURSE:
DRESSED UP ROTISSERIE…The Options are Endless
One of the cheapest take-out items, this can be dressed up by glazing chicken with barbecue sauce, pesto, sweet chili sauce, duck sauce, jam or any favorite condiment. It is also a great way to finish any last bits of chometz sauce or condiments you may have left in your fridge.
Place rotisserie in pan, top with your choice condiment seal with foil and place in warmer or warm oven until meal.
I also use rotisserie by day as an alternate to cholent or for Shabbos day dinners, by making chicken salad or sandwiches. I love this pita sandwich.
So many varieties and can be done within minutes and is the BEST place to put any last minute chometz you are trying to get rid of. Place rice, quinoa or any grain in foil, polk holes into, loosely seal and let it cook alongside your cholent. Cholent is also one the simplest Jewish classics to make.
Melinda Strauss did an awesome cholent article for the magazine a few years ago and we posted the recipes online so everyone could enjoy. Her classic cholent takes ten minutes and is adaptable to any cut of meat.
Tip: Turkey wings are a wonderful, inexpensive addition to cholent that adds tons of flavor and is inexpensive to boot.
If you are already kosher for passover try this Quinoa Cholent. 
SIDES/SALADS:
Salads that last
Salads that can be made one time and work for both day and night meals are the answer on busy weeks. These are some I recommend, especially as they use canned or store-bought products that make prep a cinch.
CUCUMBER POMEGRANATE CORN SALAD
RED CABBAGE MANGO JALAPENO SLAW
CRUNCHY VEGETABLE NOODLE SALAD
The 5-minute Grain: COUSCOUS AND CRANBERRY SALAD
Boil up a cup of two of water, add your couscous, and cover pot for five minutes and fluff. This will result in an automatic side that can be dressed up with roasted vegetables, dried fruit and herbs or fresh vegetables like cucumbers and tomatoes.
Stick to classics: LOX DEVILED EGGS WITH AVOCADO
These are always a great, fun, family-friendly side dish that is full of protein and pairs well with ANYTHING. In the Pesach issue of the magazine we did some really fun flavors, such as truffle, salmon and much more, but I will make the lox deviled eggs with avocado that was posted exclusively on the website as I have never tried them before and love trying new things.
Simply boil up your eggs before Shabbos and do the rest before the meal, it takes minutes. Place egg yolk mixture in a ziplock bag, and use as a piping bag (remember to cut a small triangle on the edge of the bag before Shabbos). It is a wonderful side to warm, comforting cholent.
DESSERT COURSE:
Go-to dessert: SPICED TRIPLE BERRY SHORTCAKES WITH MACERATED BERRIES
You can make the berries before Shabbos if you have time or at least one hour before the meal.
I use the berry recipe, but skip the shortcake, and use store bought sponge or pound cake in place of the shortcake and add a scoop of ice cream. You can even just serve berries as is with a scoop of fresh coconut cream or fruit sorbet.
Filling a pie crust with ice cream and added flavors is a win-win situation. Decadent, family friendly and no need to bake, measure or break a sweat. My husband is obsessed with peanut butter, so Jamie'S peanut butter ice cream pie Is a constant dessert in our house and a great way to finish up any leftover peanut butter you may have.