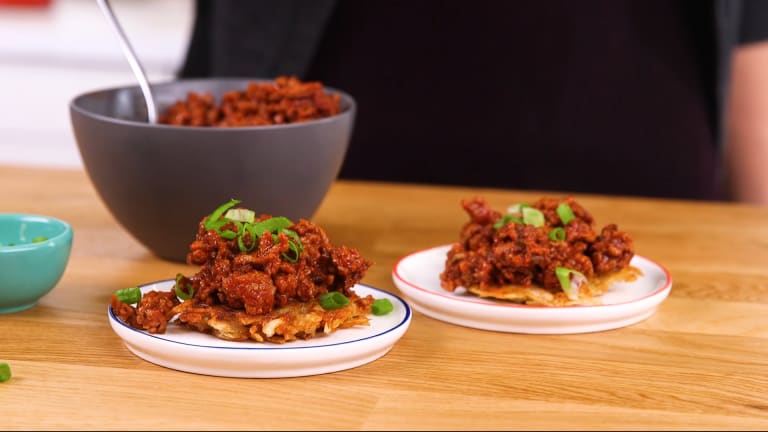 Latkes: Stuffed, Topped & Paired to Perfection
Do you ever get tired of latkes? 
Our answer is a resounding NO!!!
We could eat latkes all year, but we do give them special attention during Hanukkah and after we get our fill of our favorite classic potato latke we do like to mix things up. 
It doesn't take much to take latkes to another level, we like to stuff them, to top them, to sandwich them and to change up their ingredients and sauces and we have some incredible creations for you to try. 
We start with new latke topping ideas, check out the video and choose your favorites. 
Of course, there is nothing wrong with sour cream and applesauce. They are the classic go-to and for good reason. If they taste great why change them?  
Take these tried and true toppings and instead stuff them into the latkes with Apples and Sour Cream Stuffed Latkes or Mushroom and Sour Cream Stuffed Latkes. 
For something, a little more gourmet try these Rosemary-Mascarpone Potato Latkes.
8 Latke Recipes Not Made From Potatoes
Now that we enjoyed our potato latkes, let's change it up again and try some non potato latkes.  We have 3 in the video and 5 more in the link above because we just love the number 8.  
A few more ideas not in the article include Zucchini Latkes with Tzatziki Sauce or Zucchini Latkes with Yogurt Curry Sauce. Other great vegetable latkes are Cauliflower Carrot Latkes, Brussels Sprout Latkes, Savory Curried-Coriander Pumpkin Latkes, Beet and Carrot Latkes and Herb Leek Pancake with Light Mayo and Roasted Eggplant Sauce.
Pick a theme and plan your meal around a festive latke.  When you turn them into sliders they make a meal on their own. 
We also love Salmon and Green Goddess Stuffed Latkes, South of the Border Latkes with Black Bean Topping, and Pulled Brisket + BBQ Sauce Stuffed Latkes.  
Or if you want to go lighter but with new unique flavors try these themed sides: Scallion Potato Latkes with Ginger Dipping Sauce (with Chinese), Wasabi Potato Latkes (with Japanese), Sweet and Spicy Sweet Potato Latkes (with Southern food), Cajun Potato Latkes (with Cajun food), Sweet Potato Latkes with Brie and Baby Arugula (with French) or Caprese Latke (with Italian).
Now the only problem is which latkes to make first!