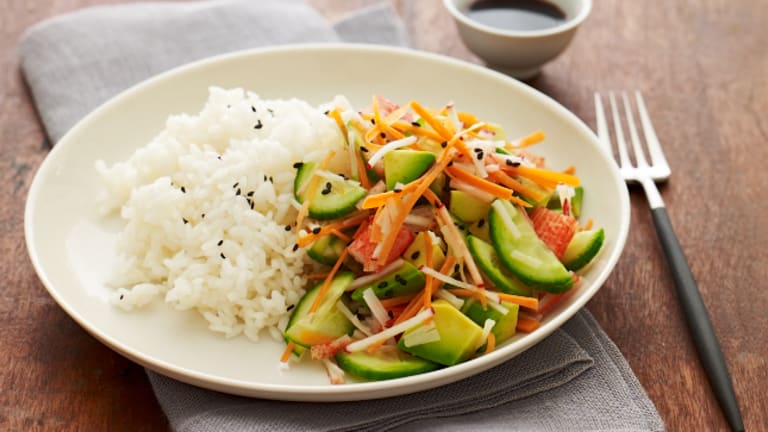 Make Ahead, No Reheating Required, Shabbat Menu
When Shabbat falls in the middle of a holiday, menu planning and prepping can get quite overwhelming. This make ahead menu allows you to cook EVERYTHING you need before Shabbat and serve it straight from you fridge to your kiddush table.  
Related: The Perfect Shavuot Menu
Getting a small container of sushi rice from your local sushi restaurant or supermarket makes this salad even quicker to put together. Bring rice to room temperature before plating. 
A rice cooker is also an easy way to make sushi rice perfect every time. 
Watch Jamie make this bright, fresh, healthy salad. This salad can work a as a meal on its own and standout appetizer. 
Save extra pesto for dipping. Serve chicken as is, in a wrap or over some mixed greens.  Use store bought pesto or find your favorite pesto recipe. 
Deviled eggs are the perfect make-ahead recipe to bulk up any meal. You can boil eggs, peel, halve and even make the filling up to 24 hours before serving. Fill eggs right before serving. 
This recipe is so family friendly and delicious served up at all temperatures. 
In the spirit of Shavuot, we had to add a cheesecake. This one really hits the spot. 
Want menus like this delivered straight to your inbox? Sign up now for Jamie Geller's Weekly Newsletter.