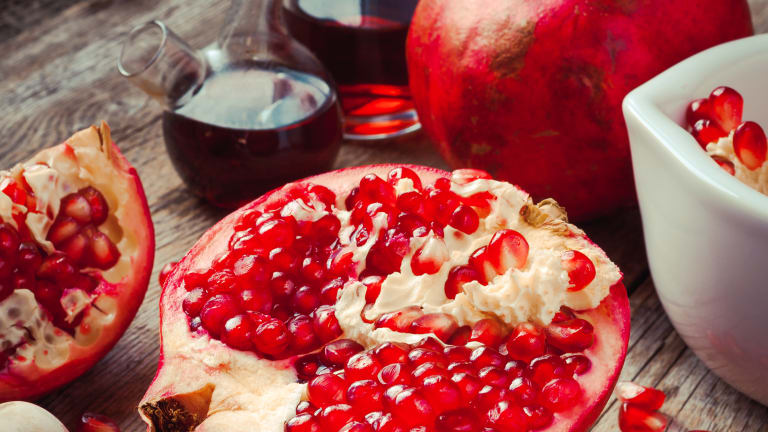 The Rosh Hashanah Superfood You Want To Preserve
Sweet little rubies bursting with flavor, every year I get excited when pomegranates make their fall debut. 
The seeds of this crowned fruit elevate both, the beauty and the flavor of pretty much every dish. If that weren't enough, they are praised as "super foods" due to their nutritional properties, and are also rich in meaning and holiness for the Jewish people. "That our merits increase like (the seeds of) a pomegranate," we recite in Rosh Hashanah, and it is one of the Seven Species identified in the Torah to have a special significance with the Land of Israel.
They are delicious fresh, but I can't pass on the possibility of preserving their sweet tanginess to season my cooking all year long, and this is where infusing them in vinegar comes to play. I experimented with a few different methods and proportions, and the following one was the winner.
Get the recipe for making your own Pomegranate Vinegar here. 
Once your vinegar is ready, you can make delicious recipes:
A shrub is a syrup usually made from fresh fruit, sugar and vinegar. The syrup is often mixed with alcohol (such as rum or vodka), water (flat or sparkling) and ice to make flavorful cocktails. You can create a delicious pomegranate shrub in seconds by using your homemade pomegranate vinegar.
This is a good Rosh Hashanah Simanim-charged shrub made with pomegranates as the fruit, apples from the vinegar and honey as the sweetener!
Every Rosh Hashanah I plan my menu around the Simanim--symbolic foods--and this salad uses them all, with the exception of the fish, so I get a lot of omen ground covered while I serve a delicious, beautiful, and incredibly healthful dish.
Sweet and Tangy Pulled Turkey with Pomegranate Vinegar 
This dish is so easy to prepare that although it's tasty enough to serve during a holiday, it's also a wonderful recipe for any day of the week. I love serving the pulled turkey "bowl" style with roasted vegetables, some lentils, beans or chickpeas, rice or another grain, and always some dark leafy greens (either cooked or raw). Sometimes I bring it to the table and everyone chooses their own garnishes. Leaving the skin on makes for juicier turkey, so even if you don't like eating it, just remove once turkey is cooked.
Want stories like this delivered straight to your inbox? Sign up now for the Joy of Kosher weekly newsletter.