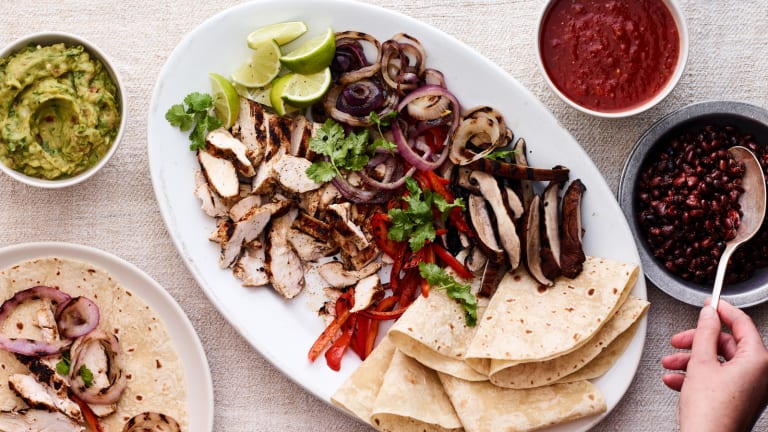 Mexican Shabbat Menu
The Torah teaches, "Love your neighbor as yourself". Don't hold back your best wine, your best meat your best recipe or your best tequila, invite your neighbors, your friends, your family and share it with them. This is my best menu to share with those you love for a truly JOYous and relaxing Shabbat. 
Mexican food is packed with flavor and very friendly for feeding a crowd. Creating a menu around a specific cuisine makes for a refreshing change and makes creating a menu easier. Use the following as inspiration for this weeks Shabbat menu or for a future party or potluck dinner. 
Gefilte fish is usually considered an Eastern European dish, but it can really be made a variety of ways. Try this Mexican version for your next Shabbat meal. 
This zesty accompaniment is perfect for chili, nachos, burgers, and salads. A fun addition to any Shabbat kiddush.  
Change up your chicken soup this week with the Mexican version, topped with cruchy tortillas. 
CHICKEN OR BEEF FAJITAS WITH ALL THE FIXINGS
DIY fajitas is so much fun and the perfect way to enjoy your time with family and friends.  Put everything on a big platter and let everyone choose their fillings.  No whines or complaints about what each kid doesn't like.  
Don't forget the drinks!!!  I love the infusion of jalapeno in a classic margarita and feel free to make fresh lemonade so the kids aren't jealous. 
Staying with our Mexican theme for dessert we are trying this non-dairy flan - you can do it. 
For more Shabbat Menus click HERE. 
Want stories like this delivered right to your inbox? Sign up now for our *free* Jamie Geller Newsletter.