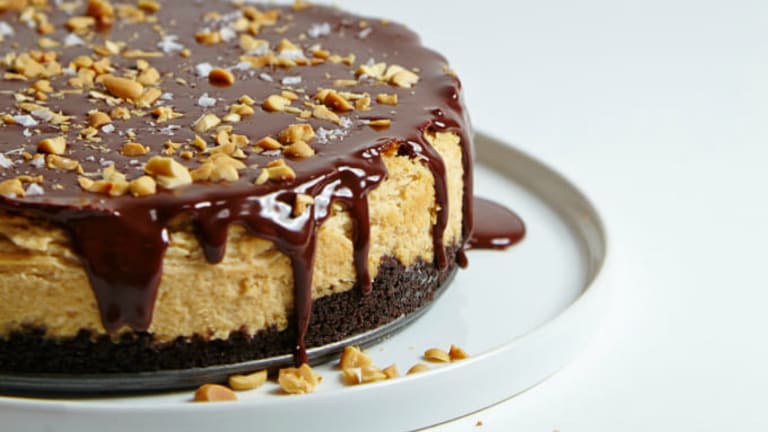 Mix N Match Cheesecake: Invent Your Perfect Combo
Customize your cheesecake with confidence. Below is an all-purpose, out-of-this-world cheesecake batter with some suggested flavor options. We provided a few crust options, filling options, and topping options...but feel free to use this concept and create your own original cheesecake creations.
THE BASE: The best cheesecake EVER (see recipe below)!
THE FILLINGS: Lemon or lime juice and its zest, peanut butter, caramel, green tea, chocolate truffles, and sprinkles.
THE CRUST: Graham cracker, chocolate graham cracker, red velvet, or cookie dough.
THE TOPPINGS: Salted caramel, chocolate ganache, chocolate peanut butter ganache, white chocolate drizzle, chocolate drizzle, fresh berries, or lemon zest.
MORE: Top 5 Kosher Cheesecake Recipes for Shavuot
General concept of making a customized cheesecake:
Make the crust and bake in oven for 10-15 minutes. 10 minutes for cookie crusts or 15-20 minutes for batter crusts (such as red velvet).
Allow crust to cool before pouring in filling.
Prepare best cheesecake EVER! Add any fillings such as lemon juice, peanut butter, or sprinkles. Or leave it as is.
Bake for 1 ½ hours in a 350°F oven.
For optimal results, bake in a water bath, as instructed on following page.
A shortcut water bath: place a pan of water on bottom tray of your oven and bake cheesecake on top tray. This method provides steam for your cheesecake with-out you having to line your springform pan with foil.
No springform pan... no problem. While a springform pan results in a bakery-perfect-looking cheesecake, you can easily bake the recipe in a 9x13" baking dish or two 9-inch pie pans. Serve cheesecake squares or pie slices. 
We had some fun and baked them into cupcake shapes...perfect for any party. Extend your recipe further by making mini cheesecake bites using mini muffin trays and liners. The following recipe will make about fifty mini cheesecake bites. 
Top cooled cheesecake with drizzled chocolate, chocolate ganache, or even some powdered sugar, whipped cream, or fresh fruit.
Enjoy!
MORE: A Step by Step Guide to the Perfect Cheesecake
CHOCOLATE CHIP COOKIE DOUGH CRUST
MORE: 25 Desserts for Shavuot
Recipes published in JOY of KOSHER with Jamie Geller Magazine Shavuot 2015 SUBSCRIBE NOW
Want stories like this delivered right to your inbox? Sign up now for our *free* JOY of KOSHER Newsletter.