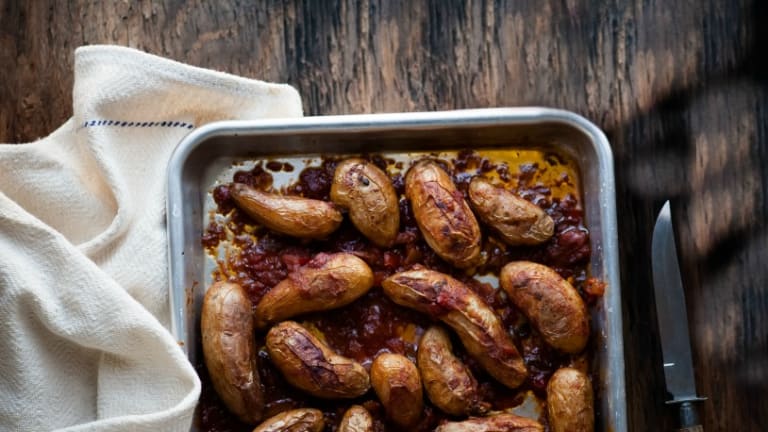 Motzi Matza - Nut Free Passover Recipes
With Passover almost underway it's time to start thinking up recipes that will suit all of your guests. Allergies and food sensitivities are very prevalent these day, especially nut allergies which affect over 3 million Americans. Picking Passover recipes, especially dessert recipes, can be difficult because nuts are often used as a substitute during Passover for things like flour. That is why we have made a list of 5  nut free recipes, including 3 delicious desserts!
This Individual Pavlovas with Lemon Curd Whipped Cream recipe will WOW your guests without being too complicated for you in the kitchen. They are so delicious your guests will have trouble eating just one so be sure to make a lot! If you are careful about kitniyot this recipe has cornstarch.
Moelleux au Chocolat or Chocolate Volcano Cake is amazingly nut free and, although the recipe is a bit more difficult, it is definitely worth making. There is no way to get through Passover without enjoying a special chocolate treat, so impress your guests with this recipe.
Potato Chip Chicken Schnitzel is a fast and easy recipe that everyone will want more of! If you are careful to not eat kitniyot, try serving the schnitzel with ketchup or any kosher for Passover dip of your choice instead of honey mustard. If you have a family tradition not to use canola oil, use any non-kitnyot oil.
Passover is not complete without a delectable dairy dessert and these Fudgy Cream Cheese Brownies are like no other brownie, whether for Pesach or for the rest of the year. They are delicious when packed up and taken on your Chol Hamoed adventures.
Roasted Potatoes with Matbucha Sauce work as a great side for any meal, because lets be honest who doesn't love roasted potatoes?
Passover eating doesn't have to be hard or complicated as long as you have a bunch of tasty recipes in your back pocket.
Stay tuned for more tips, tricks, menus ideas and Passover tidbits with our daily Passover Countdown articles, sign up to get them in your email here, make sure to check off Passover Countdown.
Check out all of this year's Passover Countdown posts here.