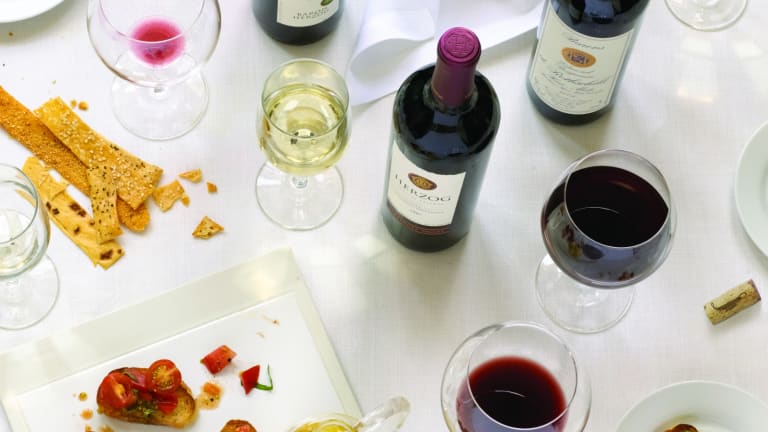 New Wine Recommendations for Your Rosh Hashanah Table
While the majority of kosher wine purchasing in the United States is conducted during the few weeks between the holidays of Purim and Pesach, second place is held by these few weeks leading up to Rosh Hashana where the treasure trove of holiday meals serves as a backdrop for much wining and dining. As the kosher wine industry continues to try and meet the surging demand among kosher wine consumers for new and exciting products, us kosher wine lovers are blessed with an abundance of quality offerings and choices from around the world that would have been unimaginable only a few short years ago.
As someone who has been drinking and writing about wine for decades, I find the plethora of possibilities to be incredibly fortuitous as it ensures the continued availability of new discoveries – one of wine's greatest joys. However, it can also prove right the old adage of "too much of a good thing". These days the sheer number of available kosher wines and wineries can be extremely daunting, especially when all you are trying to do is select a few good kosher wines for the coming abundance of holiday meals you intend to share with friends and family, many a time resulting in the unfortunate result of grabbing the tried and true instead of giving something new a shot. It isn't only the drinking part of wine that should be enjoyable – shopping for new wines can also be extremely pleasurable as long as you are properly equipped (and I can be helpful in that regard), otherwise the abundance of unknown choices can be overwhelming.
In order to help with your holiday planning, I have recommended a number of terrific wines that may not be on your radar. As part of my continued efforts to encourage diversification I have also included a sparkling wine and a dessert wine; two genres that don't get enough love from the typical kosher wine consumer (given the traditional wishes for a sweet new year, the dessert wine is especially appropriate this time of year). The wines below should go with the plethora of dishes being served at your table and are certain to bring happiness wherever they are served. As always, please feel free to reach out to me directly (yossie@yossiescorkboard.com) for any additional recommendations, questions or suggestions.
Shana Tova,
Yossie Horwitz
2016 Rosh Hashanah Wine Picks


Golan Heights Winery, Gilgal, Brut, n.v.
The white and sparkling wines from the Golan Heights Winery remain "best in class" and this wine represents one of the best values you can buy. A blend of 50% Chardonnay and 50% Pinot Noir, the wine is made in the traditional méthode champenoise. As I constantly urge, people should drink sparkling wine far more often and, given its festiveness and extreme food-pairing versatility, the coming holiday season is a perfect time to start. With a delightfully structured mousse, this medium-bodied sparkler is crisply dry and provides notes of yeasty brioche, green apples and pears, freshly-grated lemon zest, toasted hazelnuts and hints of warm herbs; all built around a core of bracing acidity which provides a long and seemingly-endless finish. Drink now through 2019, maybe longer.
Chateau Le'Oasis, Cotes du Provence, Rose, 2015
Similar to sparkling wine, good Rosé tends to match well with a wide range of dishes and this is no exception. Given the dearth of kosher Rosé this year created by 2015's Shmitah vintage, this is one of the only currently available classic Rosé wines. With tons of earthy minerals, saline and other savory notes complementing the strawberries and raspberries, the lovely acid and citrus providing a dose of intrigue. Like white wine, Rosé can (and should be drunk) all year round – don't let Labor Day's passing get in the way of that!
Tzora, Judean Hills, Red, 2014
Tzora easily ranks among Israel's top five wineries but somehow continues to fly slightly below the radar. Truly committed to the concept of terroir, the winery makes six wines, all highly recommended. The wine represents their basic level wine but there is nothing basic about this delicious blend of 45% Cabernet Sauvignon, 20% Syrah, 20% Petit Verdot, and 15% Merlot. Meant for early drinking, the wine is approachable out of the bottle and showcases rich black fruits with hints of red cherry and tart raspberry alongside plenty of earthy minerals, warm spices, dark chocolate and sun-kissed Mediterannean herbs on a plush and medium bodied palate. A lovely and elegant wine with a lingering finish, Tzora continues to showcase Old World elegance and finesse with a New World (and Israeli) twist.
Elvi, Clos Mesorah, 2013
While I remain focused on value wines, Rosh Hashana (and the subsequent Succot) are important enough to break out the really good stuff and this treasure from Spain's Elvi Wines certainly warrants that moniker. A blend of 50% old-vine Carignan and 30% Grenache along with 20% Syrah, the wine opens with gobs of rich red fruit including raspberries, red cherries and a hint of boysenberry alongside cassis and subtle notes of blueberry, accompanied by a delightfully earthy minerals, rich dark chocolate, spicy oak, fresh-rolled cigars, notes of oaky vanilla and roasted espresso on a full bodied palate where fresh-turned earth, hints of lavender and grilled meat are added to the mix before culminating in a rich and caressing finish that lingers on and on. With robust tannins providing a well-structured backbone that will help the wine age beautifully over the next decade, this is a beautifully elegant wine with a lingering and expressive finish to match. If you must open this now be sure to give it 8-10 hours of decanting before enjoying it (otherwise it should cellar through 2025, likely longer).
Chateau Piada, Sauternes 2013
Given my great love of dessert wines, I was thrilled that dessert wine's "home state" of Sauternes fared far better than much of its Bordeaux-brethren (who suffered from a less-than-perfect). A deliciously sweet wine that provides plenty of complexity and delicious botrytis funk with every sip. With loads of ripe pineapple and other freshly-picked tropical fruit, dried apricots, honeysuckle, candied hazelnuts and lip-smacking lemon and tangerine, the wine provides plenty to contemplate while enjoying the crisp acidity that keeps the sweetness in check. Surprisingly approachable on release, the wine will continue to develop and mature over the next few years but isn't as destined for the long run as its predecessors were. Drink now though 2023.
Want stories like this delivered right to your inbox? Sign up now for our *free* JOY of KOSHER Newsletter.